By Dr. Sanjay Gupta
Chief Medical Correspondent
Ever since we had our two daughters, my wife has been insistent on buying organic milk. She looks specifically for milk free of added growth hormone, or more specifically free of rBST, recombinant bovine somatotropin. It's more expensive, sometimes more than double the price, and I was never quite sure if it makes any difference. Still, I understand her concern.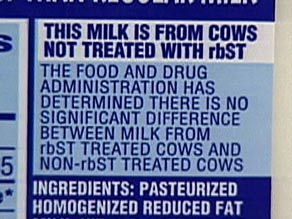 Well, Wal-Mart does too apparently. The company recently announced that its store brand milk will come solely from cows free of artificial growth hormone, which is given to cows to increase milk production. They join Kroger, Safeway, Publix and Starbucks, to name a few. The change seems to be fueled mainly by public concerns rather than specific science.
As we investigated this story, I found that most of the peer-reviewed science out there does not support a link between hormones in milk and cancer, nor with early puberty in girls, which is a widely circulated concern. Common sense, my wife tells me should prevail. "How could artificial hormones possibly be good for a growing child?" she asks the way only a mom can ask.
Often times, I am left without a response. "But, the science..." I say in vain. But, she's already off to the grocery store to buy more.
I guess the good news is that the price of milk free of growth hormones will probably come down, given the movement and more offering of this type of milk. But, still, is it worth it?
Check out an AC 360 take on hormone-free milk.
Editor's Note:  Medical news is a popular but sensitive subject rooted in science. We receive many comments on this blog each day; not all are posted. Our hope is that much will be learned from the sharing of useful information and personal experiences based on the medical and health topics of the blog. We encourage you to focus your comments on those medical and health topics and we appreciate your input. Thank you for your participation.