By Dr. Sanjay Gupta
Chief Medical Correspondent 
Today is the first World Autism Awareness Day as designated by the United Nations.  First off, let me say that at CNN we have been preparing for this day for months, and have covered autism stories for years. Since I have been at CNN, I have been covering autism and I have committed myself to this area of reporting and investigation. If you ask most medical reporters, they will tell you the autism beat is sort of the third rail of journalism. It is so rife with controversy and passionate people on different sides of the issue. If you do stories on this topic, you will get criticized. Period.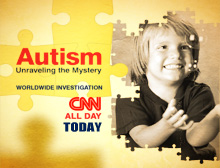 Still, perhaps because I am a neurosurgeon, I have been fascinated with the new brain imaging that allows us to peer deep inside the brain of a child or adult with autism and see the changes that may explain the mysterious symptoms. I will continue covering these stories. Maybe it is because I am a relatively new parent of two gorgeous little girls who jumps for joy every time they pass a milestone and grows a little concerned if they seem to be a little behind compared with their friends. Maybe it is because families from all over the world have sent their stories to me about their own family members with autism.
I have spent a lot of time as a doctor and a journalist with children that have autism. I have walked into those meetings with an open mind devoid of any preconceived notions about what type of person I was likely to meet and what may have caused his or her autism in the first place. As an individual, I find myself less dogmatic and more willing to listen to all sides. I have taken the time to read in detail the 16 best epidemiological studies that exist, as well as the more limited toxicity studies. I have researched studies from as far away as Portugal looking at the incidence of mitochondrial disease and its possible association with autism. I am a better journalist because of it and a better doctor as well.
 Truth of the matter, autism is a spectrum. It is hard to say for sure that someone has "serious" autism or "mild" autism. And, I hate those scales anyway. Truth is, I am not sure my daughter smiled socially at 3 months or she was just happy that I fed her. I am also not sure that her first word came right on schedule. I thought she said "daddy," my wife said it was "cat." We don't even have a cat. Every parent has likely thought about these same things at one point or another.
 As a journalist, especially one with my medical background, I feel responsible to keep the attention focused on this topic. I am delighted that CNN is presenting a worldwide investigation today. Besides the medical aspects, we will discuss the financial, the emotional (did you know the divorce rate has been estimated at 80 percent among parents of children with autism?) and the cultural aspects of autism as you see stories from South Africa, Qatar and many other countries. It is called Autism: Unraveling the Mystery, and I know we won't answer all the questions, but we will make a dogged effort to get at some of the answers – again, with an open mind and with the single purpose of finding the truth.
 We would like your help.
 Post a note here with your thoughts about how CNN should continue the worldwide investigation.
Editor's Note: Medical news is a popular but sensitive subject rooted in science. We receive many comments on this blog each day; not all are posted. Our hope is that much will be learned from the sharing of useful information and personal experiences based on the medical and health topics of the blog. We encourage you to focus your comments on those medical and health topics and we appreciate your input. Thank you for your participation.