By Phil Riley
CNN Senior Writer
My cellphone rings and I know it's bad news.
Only 8 a.m., but the school nurse needs me to take Emma home.
She's biting and scratching herself, and it's taking two adults to restrain her.
I can't ask Emma why she's so upset. She can't tell me.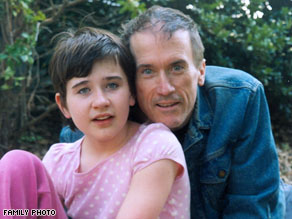 Emma Riley and her family have been struggling with autism
Emma is 11 years old. She has suffered from autism for a decade. Her family has, too.
It started in the 1990s, still the dark ages for autism.
The pediatrician said not to worry about Emma's development.
The psychologist who diagnosed her said to my wife and me, "Read this book."
It confused and scared us even more.
We've come a long way since then.
So has Emma.
She's more affectionate toward her family, more tolerant of changes in routine.
But challenges continue.
My wife and I've had to fight to get Emma in classrooms where we hoped she would thrive.
It's not always worked out.
Just like social interactions.
Typical kids don't want to hang out with a girl who doesn't share their interests or can't have a conversation.
No going out to a restaurant or church as a family.
Spouses spelling each other is good. Less time together as a couple, not good.
Guilt when you're not there for her brother.
Sleep deprivation.
But what most concerns my wife and me is this: How will Emma get along when she's an adult... or when we are no longer physically able to care for her... or after we're dead?
Recently I took our 14-year-old son, Conor, to a school admissions interview.
Later, he told me they had talked about Emma and he had said, "I've had to help watch out for her."
And Conor was asked how he felt about that.
His answer: "You learn to serve others and not just yourself."
Editor's Note: Medical news is a popular but sensitive subject rooted in science. We receive many comments on this blog each day; not all are posted. Our hope is that much will be learned from the sharing of useful information and personal experiences based on the medical and health topics of the blog. We encourage you to focus your comments on those medical and health topics and we appreciate your input. Thank you for your participation.