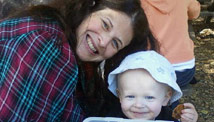 Tracey Helton Mitchell lives outside San Francisco where she and her husband are raising three children. Tracey is an addiction specialist who helps people dealing with dependency and mental health issues find meaningful employment. In her free time, she enjoys writing and exploring the Bay Area. Tracey hopes by telling her story, she can give hope to others dealing with addiction.
From the very beginning, I always felt like there was something about different about me. There was a space inside my consciousness that was restless.
Everything about my birth and my childhood implied a happy future. I was born of two parents into a family that wanted me. I lived in a comfortable house in a small, close-knit community. While I was found to be extremely "gifted" at an early age, I found that to be a burden. I could never stop judging myself, every detail. I was the kid always in search of attention from the teacher, not the fellow students. I was confident in my abilities but there was a dissonance. No matter what I did, what I said, where I went - I was never comfortable with the shell I carried called myself.