Editor's note: Jennifer Seitz is a senior editor at CNN.com, and the mother of three.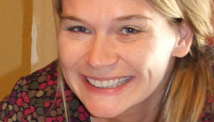 Birth stories are more than just the epic tale of how we all got here. They're a way of sharing one of the most profound experiences of life.
I've heard many, many of them, and not just on hospital visits to see friends with newborns, but also upon meeting new friends or coworkers who gave birth years ago, and even unsolicited from strangers for simply walking around pregnant.
I'm not an expert on childbirth, but I've done it three times. And I've watched many of them (TLC's "A Baby Story" is many a pregnant lady's addictive TV, especially the closer she gets to the due date.)
Websites abound to share birth stories, too, just to meet the demand of people who are compelled to talk about them and others who are desperate to know as much as they can about them, maybe in preparation for their first.
Why? Because, wow, it's scary. Fear of the unimaginable, unbearable pain we've heard so much about makes us afraid of giving birth. Some young women say they will never have children because they can't imagine going through such an inconceivable thing. I was one of those.
But then, when you are pregnant, you try to talk yourself out of all those years of conditioning as the due date looms. The excitement is accompanied by panicky anticipation.