Barry Estabrook is the author of "Tomatoland: How Modern Industrial Agriculture Destroyed Our Most Alluring Fruit."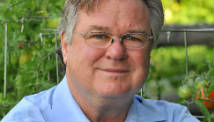 My favorite garden catalog arrived this week. I am an unabashed lover of tomatoes - real tomatoes that I grow in the summer, not the tough, tasteless orbs that pass for tomatoes in supermarkets this time of year.
So I immediately flipped the pages until I found the tomato section and began gazing longingly at glossy photographs of dear friends from the bygone days of summer.