Editor's note: CNN contributor Amanda Enayati ponders the theme of Seeking Serenity: The quest for well-being and life balance in stressful time.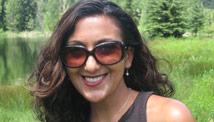 Graduation just passed, but I still have no job. And in a few weeks, I'll have nowhere to live either, and so I'm moving back in with my parents to continue my job search, which I first started almost a year ago. I am so stressed out that I haven't been sleeping. Sometimes I get so anxious, I have difficulty breathing.
That's a direct quote from a recent college graduate in New York who did not even want his first name used. "I'm so wigged out, I'm feeling paranoid," he said.
What was remarkable was that in almost a dozen conversations I had with graduates from all over the country these past few weeks, many kept using virtually the same language over and over again. The commonality of sentiments among people who did not know one another was striking. And though there was a smattering here and there of the hopeful - those who had jobs secured - they seemed by far the exception.
There is stress - and a lot of it - rampant among a population that might normally be quite exuberant right about now: four carefree years of college behind them, hard-earned degrees in hand, a warm breeze blowing through their still-full heads of not-graying hair as they embark upon that heady adventure known as the rest of their lives.