Editor's note: CNN contributor Amanda Enayati ponders the theme of seeking serenity: the quest for well-being and life balance in stressful times.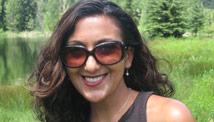 In two weeks I am going into surgery to reconstruct my right breast, which I lost to late-stage breast cancer four and a half years ago. The tumor was the size of a baby Godzilla. "Nine centimeters!" I remember my mother wailing. "Your entire breast isn't nine centimeters!"
When the surgeons performed the mastectomy in 2007, they put in an expander - like a placeholder - to stretch out the skin in preparation for an implant. Back then the plastic surgeon said I had to wait something like three to six months for my skin and body to recover from chemo and radiation before I could have the reconstruction.
I was dying to get back to "normal" and so I used every Jedi mind trick I knew to convince the surgeon to operate faster. I even resorted to my old Iranian negotiation tactic of asking the same question over and over again using slightly different words until the person just breaks down from mental exhaustion. Alas, the Stanford surgeon was an ex-New Yorker. He prevailed.
FULL POST