Editor's note: CNN contributor Amanda Enayati ponders the theme of seeking serenity: the quest for well-being and life balance in stressful times.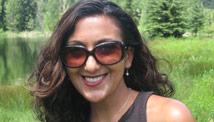 When it comes to stress relief methods for me, the devil is in the execution. More likely than not, I will stack whatever it is (or an article or book about it) on my bedside table and expect it to sink in through magic and osmosis. Alas …
I got a call early last week from my friend Parvathi, who works for a Washington clinical psychologist specializing in cognitive therapy for patients with anxiety and obsessive-compulsive disorder. "You need to check out some of these biofeedback devices for stress," she said. "My doctor has a few of them in the office. He lends them out to patients who are having anxiety."
I was skeptical. When I actually saw a picture of one of them, the question was obvious: How do you reduce stress by sticking your finger into a socket thingy and breathing for a while?
"Biofeedback is remarkable," said Erik Peper, a San Francisco State University professor who has been involved in self-regulation and stress management for decades as both a teacher and a clinician.
He proceeded to lead me through a 30-second breathing exercise on the phone that left me lightheaded. "You see? Even small changes in your breathing can make a significant difference in your physiology — in your body, mind and emotions."
Very simply put, the science behind guided biofeedback has to do with heart rate variability, or the variation in the beat-to-beat interval of your heart rate. Researchers have found a significant link between reduced heart rate variability and a decreased quality of life, including greater stress, pain and worry, and a host of other conditions. Higher heart rate variability is associated with better overall physical and emotional health, as well as with a reduced risk for stress-related illnesses. Guided biofeedback devices may help increase heart rate variability — and possibly benefit a host of other physiological functions, like keeping the blood pressure constant and less reactive — by calculating and establishing optimal breathing patterns. According to Paul Lehrer, a psychologist and psychophysiologist from UMDNJ-Robert Wood Johnson Medical School, "In biofeedback, heart rate variability is about five to 10 times higher than if you're just sitting there breathing normally."
"It's a brand new technique that's about 2,500 years old," joked Richard Gevirtz, professor of psychology at the California School of Professional Psychology at Alliant International University. "Yogis and swamis used these same methods when they wanted to be calm and stress-free. We started using biofeedback techniques about 20 years ago with clinical equipment that measures heart rate and respiration as a feedback modality. We had patients try to maximize the valleys and peaks of their heart rate using a slow breathing technique. We used biofeedback clinically with disorders that we thought were stress-related — like headaches, irritable bowel syndrome, insomnia and pain — and we have had some remarkable successes."
There are several biofeedback devices on the market. StressEraser, emWave and MyCalmBeat were the three most mentioned by the psychologists I interviewed. "I like them all. They all do the same thing," Lehrer said.
I personally tested the StressEraser and MyCalmBeat. I appreciated the StressEraser's small size and portability; I used it as I lay in bed and also took it out with me on a few occasions to use when I had a free moment (including on the sideline at my 5-year-old's soccer game. "Really?" groaned my husband).
I also liked MyCalmBeat, which connects to the computer and has a heart rate monitor clips to the ear instead of the index finger, because I found the visual of rhythmically expanding and deflating lungs helpful to follow along with. (MyCalmBeat also has apps for most smartphones.)
Two of the psychologists I spoke to mentioned liking emWave's protocols and data displays.
The experts all seemed to agree on the benefit of using a biofeedback device, at least at first. And though clearly there's some overlap, biofeedback is different from meditation in the sense that the biofeedback monitor allows you to know in the moment whether your body is having the desirable physiological reactions. "The advantage of the equipment is that it gives you the immediacy of feedback. It also provides the distraction of looking at the screen," Peper said.
Lehrer, who has had compelling success in studies using biofeedback in the context of asthma, noted that when people are properly trained in the breathing technique and they practice it twice a day every day for 20 minutes for at least three months, it has a significant effect on their day-to-day stress reactions, even when they're not doing biofeedback.
Lehrer told an amusing anecdote about whether biofeedback is considered a conventional or alternative medicine therapy.
"When I applied to the National Institutes of Health's National Center for Complementary and Alternative Medicine for funding to do biofeedback studies of asthma, they wrote me back and said it was not their bailiwick because biofeedback was too established and too scientific. Then when I wrote the National Heart, Lung and Blood Institute for funding, they said it was too complementary. But ultimately I convinced NHLBI, because they're now funding me. They consider it an experimental procedure worthy of further research."