Editor's note: CNN contributor Amanda Enayati ponders the theme of Seeking Serenity: The quest for well-being and life balance in stressful time.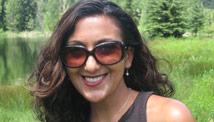 I vowed that I would not sit down to write this piece until I cleared some of the clutter around my house. Alas, two weeks passed and the piles remained. With a deadline and the wrath of my editor looming, I swallowed the angst of potential hypocrisy and began writing.
I'm no hoarder, mind you, just your average run-of-the-mill pack rat. And it is quite likely that to a lesser or greater degree, you are one too.
As a society we are endlessly obsessed with buying and collecting stuff, and then trying to conquer the resulting morass. Clutter - and its pathological first cousin, hoarding - are big business: the subjects of countless products, stores, reality shows, websites and articles. Should you decide to Google "clutter," you would have to sift through almost 29 million results.
"How are you so organized?" I once asked my friend Maya, one of the most ordered people I have ever known.
"That's just what you can see," she said. "If you were to look in my closets and dresser drawers, they are a nightmare."
"Hmm," I said, feeling slightly deflated, "like clutter as a metaphor for our lives: The appearance of order on the outside. Chaos on the inside."
"I don't know," she shrugged, noncommittal. "I'll have to ask my shrink about that."
It may be true that all the decluttering tips in the world will not help us until we understand the compulsion to accumulate things we don't need in the first place.
"Look at any clutter in your home and I would bet that you are resistant to getting rid of it for one of two reasons: You either fear the future or are attached to the past." So observed Leo Babauta, author of "The Power of Less." "Maybe you're holding on to the stuff because you're uncertain whether you might need it later and you won't have it. On the other hand, maybe they are mementos, trophies of all the great things you've done in the past - things that make you feel loved or good about yourself."
The idea of attachment to the past makes sense to me. I like to blame my own clutter on the Ayatollah.
Because some part of me suspects that the perpetual disarray in my surroundings is somehow related to the chaos that has lingered within - like a low-grade infection - ever since I fled the Iranian Revolution as a child refugee 30 years ago. I have, for instance, squirreled away scores of photographs and random mementos of my two children's baby years. Probably because all of mine were left behind in the urgency of flight.
But any good feelings I may have derived from the material things I have collected over the years has been replaced by the dread of their growing presence in my life. Where I once cohabitated with clutter quite nicely, my body and mind now seem less able and willing to tolerate their leaden weight. The tokens of the past have begun to feel like anchors, whether they sit in a corner, atop a desk, or even hustled out of sight in a closet or drawer. The thought of what may be lurking in a particular glut of miscellany is downright stressful.
Ryan Rigoli, a San Francisco-based life and leadership coach, explains the sometimes-pernicious cycle of acquisition: The human tendency is to run toward positive emotions - security, pleasure, happiness, joy and bliss - and to do our best to avoid negative ones. Our consumerist culture, echoed throughout the media, tell us from the time we are very young that the things we acquire can make us feel good.
But the pleasure derived from material things is fleeting. The desire to maintain the high of feeling good can fuel recurring episodes of purchase when that initial pleasure wears off. At some point, you're left with a mountain of things (and most likely debt), and no pleasure anywhere in sight.
Does this sound like the behavior of an addict? It is. Except the addiction is not so much to buying stuff, but to trying to feel certain emotions, like joy and pleasure.
The cycle is also unsustainable from both a personal and global perspective.
True joy, says Rigoli, can only come from an inner state of being. Not being attached to the past. Not being fearful of the future. But remaining firmly rooted in the present moment.
So how does one begin to clear the clutter - both mental and physical?
Tackle one flat surface at a time
If you're feeling moved to undertake a frenzy of purging, don't. Start with small, even minuscule steps. Babauta suggests: "Focus on one surface, one shelf, the floor of one closet."
Find a place for each thing you want to keep in your life
These are things that you need to use or love to death. Everything else should go.
Become conscious of bringing things in to begin with
If you're in a hole, stop digging. If you are drowning in piles, stop adding to them. Be conscious of your spending.
Figure out your "triggers"
Both Babauta and Rigoli recommend journaling as a way of becoming aware of what's happening - habits and patterns in thought and behavior that trigger unwanted emotions and actions.
Get another perspective
"We have a lot of blind spots and shadow spots," Rigoli says. "Get the counsel of someone you trust, someone who can look at you objectively, not someone who's going to project their own issues. And then listen and be open to feedback."
Begin practicing
"Our whole life is practice," Rigoli notes. "Anything you do over and over again is practice. You practice smoking. An athlete practices his or her sport. In our lives we become habituated to certain patterns.
Consciously or unconsciously, we are practicing things - both good and bad. It is important to look at current behavior and, if necessary, find ways to create new practices." On his website, Zen Habits, Babauta echoes this principle with a quote by Aristotle: "We are what we repeatedly do. Excellence, then, is not an act but a habit."
The clutter in your life may be the physical manifestation of habits that have been built up over years. "But you cannot change your life overnight," Babauta observes as we close our conversation. "And don't think there's any quick fix. Looking back on it, my list of things I transformed about my life sounds remarkable. But I changed slowly, one tiny thing at a time."