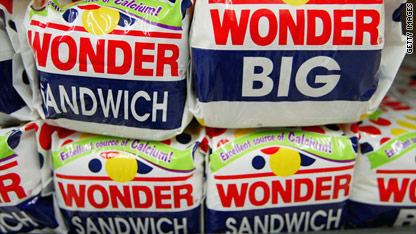 Your Wonder bread, Snyder's of Hanover chips and Butterball deli meats and hot dogs will become less salty over the next five years.
Six major food companies pledged to join efforts to cut the amount of salt in their products, signing on to a national effort involving packaged and restaurant foods, according to the New York City Health Department.
The effort, called the National Salt Reduction Initiative, includes 32 local and state health departments and 25 other partners and aims to reduce salt in packaged and restaurant foods by 25 percent over five years.  Too much sodium is bad for your health because it can raise your blood pressure, which increases risk for a heart attack and stroke.
The six companies are:
1)     Butterball, the seemingly ubiquitous maker of turkeys, other poultry and cold cuts  commits to reducing sodium in its deli meat and hot dogs.
2)     Delhaize America said it will reduce sodium in food packages such as frozen pizza, cereal and butter.
3)     Furmano's, a supplier to both consumers and restaurants, will reduce salt in canned beans, baked beans and tomatoes.
4)     Heinz, the ketchup maker, made an initial commitment for its ketchup and Classico pasta sauce, and will extend that commitment to its frozen pizza and entrees.
5)     Hostess, one of the largest wholesale bakeries in the country, will reduce salt in its bread lines – such as Wonder bread and Nature's Pride. And no, a company spokeswoman tells us, Twinkies and snack cakes are not affected at this time.
6)     Snyder's of Hanover, the pretzel makers, will cut the amount of salt in its potato chips.  Their pretzels already meet the sodium level guidelines, according to the NY Health Department.
New York  has led several public health initiatives – listing calorie content in menus, banning trans fat and proposing to ban outdoor smoking in public places.