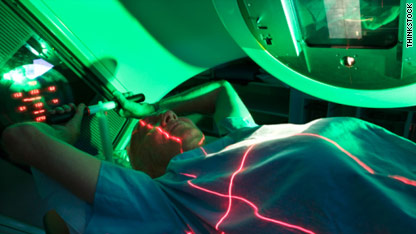 Lung cancer screening by CT, or computed tomography, can reduce lung cancer deaths by detecting the disease at early stages, a new study from the National Cancer Institute says. It was the first time researchers saw a reduction in death as a result of lung screening, experts said.
In the National Lung Screening Trial (NLST), more than 53,000 current and past heavy smokers between the ages of 55 and 74 were screened for lung cancer by either low-dose CT scan or standard chest X-ray. Researchers found 20 percent fewer deaths in those screened by CT scan. The data were so statistically convincing the trial was stopped and the results released.
The results demonstrate that such CT screening could benefit older, high-risk patients, aid Dr. Denise Aberle, NLST national principal investigator for the American College of Radiology Imaging Network (ACRIN).
"We have the potential to save thousands of lives," if low-dose screening is implemented responsibly, and people with abnormalities are closely followed, Aberle said.
Trial participants smoked at least a pack a day for 30 years and had no symptoms or history of lung cancer. They were screened once a year for three years and followed for an additional five years.
"This is the first time that we have seen clear evidence of a significant reduction in lung cancer mortality with a screening test in a randomized controlled trial," said Dr. Christine Berg, NLST project officer for the Lung Screening Study. "The fact that low-dose helical CT provides a decided benefit is a result that will have implications for the screening and management of lung cancer for many years to come."
However, there are some risks to CT scans. Radiation exposure even at low doses is higher than conventional X-rays. The tests can be costly and most insurance companies and medicare do not provide reimbursement, and 20 to 60 percent of scans will show abnormalities that can lead to more testing and medical procedures like lung biopsy that can result in post-operative complications.
Still, Dr. Harold Varmus, director of the National Cancer Institute at the National Institutes of Health says this is the first clear demonstration that a screening procedure can be effective in significantly reducing mortality in lung cancer. "Lung cancer is the leading cause of cancer mortality in the U.S. and throughout the world, so a validated approach that can reduce lung cancer mortality by even 20 percent has the potential to spare very significant numbers of people from the ravages of this disease."
Dr. Otis Brawley, chief medical officer of the American Cancer Society agrees. "This is the first baby step toward adopting lung cancer screening in smokers. This is the first time we have any study that truly proves that screening smokers can save lives and can be beneficial. It really does give us some hope."
According to the NCI, it will take some time to go through the data, so it's too early to say how often people should be screened, what other populations might benefit from screening and how cost effective it will be.