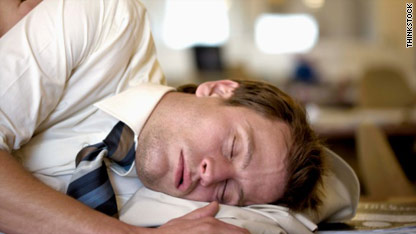 Do your personality and social life say something about the way you sleep? According to a new study in the journal Sleep,  patterns of sleep can be based on the kind of social activities we partake in, and the type of people we are.
The study results showed that people who were outgoing, or extroverts, who were exposed to 12 hours of social interaction, were more vulnerable to being sleepy than those extroverts who participated in 12 hours of isolated activity. Response tests showed that extroverts who had great social lives were slower in the early hours of the day, as well as noon time, compared with extroverts who were by themselves. For those who were less outgoing, or the introverts, their response tests were unaffected and remained stable no matter what their activities.
"Extroverts exposed to socially enriched environments showed greater vulnerability to subsequent sleep deprivation than did extroverts exposed to an identical but socially impoverished environment," said principal investigator and lead author Dr. Tracy L. Rupp, a research psychologist in the Behavioral Biology Branch of the Center for Military Psychiatry and Neuroscience at Walter Reed Army Institute of Research. "The ability of introverts to resist sleep loss was relatively unaffected by the social environment. Overall, the present results might also be interpreted more generally to suggest that waking experiences, along with their interaction with individual characteristics, influence vulnerability to subsequent sleep loss."
The study looked at 48 healthy adults between the ages 18 and 39. Participants were prescreened using a standard personality test and were classified as either extroverted or introverted. After eight hours of normal sleep, all were asked to remain awake for a total of 36 hours, 12 of which involved some form of social exposure. Half the group was asked to take part in "socially enriched" activities, such as playing cards, board games, puzzles, watching movies or group discussions. The other group members were given an activity to do, by themselves in an isolated room. After the activities they were asked to stay awake for  22 more hours.
Throughout these activities, participants' wakefulness and alertness were measured. Researchers found there were no significant differences when extroverts and introverts slept for a normal eight hours. But when their alertness was tested during their hours of sleep deprivation, the introverts in the socially involved group, were more alert than the extroverts in that same group. And those extroverts who were socially active had more fatigue than the extroverts who were in the isolated group.
Study authors believe the combination of an outgoing personality along with an active social life could lead to rapid fatigue in certain areas of the brain that regulate attention and alertness. So high levels of activity with some people could be associated with the need for more sleep. However, investigators believe some people have a resistance to sleep loss that could be rooted in their genetic makeup. For instance, introverts may have a higher level of different chemicals and hormones in the brain that gives them an ability to stay awake and functional, even with a lack of sleep.
Rupp believes the data could help industries who require employees to work during odd hours of the day, better understand who's right for particular jobs.
"These data have practical relevance for occupational shift work and military operational assignments, said Rupp. "And can give them a better understanding individual-differences that can influence a person's vulnerability or resiliency to sleep loss."