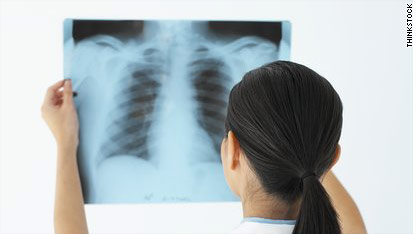 A new drug is showing remarkable promise in treating lung cancer patients who have a rare genetic mutation. The drug, crizotinib, stabilized or improved the disease in 90 percent of patients in an early stage clinical trial, according to study results released Wednesday in the New England Journal of Medicine (NEJM).
"Some of our patients will notice improvement of their symptoms within a few days or a week," said Dr. Alice Shaw, one of the drug's lead investigators. "These responses are dramatic."
The drug targets a genetic mutation found in 3 to 4 percent of non-small cell lung cancer patients, typically non-smokers. The mutation, called anaplastic lymphoma kinase or ALK, triggers cancer cells to grow. Crizotinib, developed by the drug company Pfizer, inhibits the mutation and essentially shuts down new cancer cell growth.
"When you turn it off they actually stop growing and many of these cells die," Shaw said.
Crizotinib is not a cure. On average, the treatment provides patients another six to 12 months of good quality life, although some patients are still alive two years after first responding well to the drug. 57 percent of patients in the study experienced a significant reduction in the size of their tumors. The tumors shrank less in an additional 33 percent of patients who still saw their disease stabilize.
Evie Cogan, a lung cancer patient, started on the breakthrough drug in January.
"The disease was progressing and nothing was helping. I was running out of options," Cogan said. "I found my miracle. You pray that they're going to come out with something new, and it happens. It became my reality. And for me it came out in the nick of time."
Targeted therapies similar to the one that has extended Cogan's life have been used to treat certain types of leukemia, melanoma and rare sarcomas.
"With the advent of all the targeted therapies that are being developed you can really try to match the targeted therapy with the tumor to which there might be the best chance of response and benefit," said Dr. Eunice Kwak, the lead author of the study in NEJM. "You can more efficiently treat people with drugs that are more likely to help them, rather than treating them with drugs that you're sort of blindly treating them with because you're hoping there's a chance of response."
The clinical drug trial of crizotinib is ongoing as more patients are being enrolled. In a statement, Pfizer said the company plans to file for approval of the drug early next year.