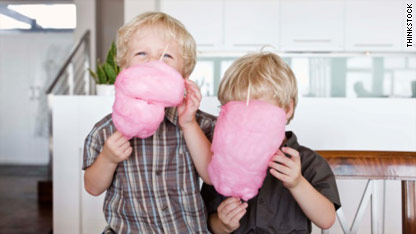 Iron helps build strong muscles and is essential for healthy blood. And it's especially important for babies, because without iron the body can't make red blood cells and doesn't get the oxygen it needs to grow.
But according to the American Academy of Pediatrics, iron deficiency in children is a major problem. But parents often don't know because experts say the tests for iron deficiency aren't reliable. In a clinical report released at the National Conference & Exhibition of the American Academy of Pediatrics in San Francisco, the AAP renewed guidelines to increase iron intake in infants and children, and to improve screening methods.
"Iron deficiency remains common in the United States," said Dr. Frank Greer, former chair of the AAP Committee on Nutrition and co-author of the clinical report. "And now we know more about the long-term, irreversible effects it can have on children's cognitive and behavioral development. It's critical to children's health that we improve their iron status starting in infancy."
Currently, children have their blood iron checked between 9 and 12 months of age, and again between 15 and 18 months. But doctors say the test is imperfect, and that it can miss many youngsters with iron deficiencies.
Now the AAP is revising its guidelines to increase iron intake in children, as well as looking to improve screening methods for the deficiency.
The revised guidelines say healthy infants are born with enough iron stored in their bodies for the first 4 months of life. Because human breast milk contains very little iron, breast-fed infants should be supplemented with 1 milligram per day of oral iron beginning at 4 months, along with iron rich baby foods.  Formula babies are fine, but should not be given whole milk before 12 months.
After that, children up to a year should be fed an iron supplement, along with foods rich in iron, such as red meat and vegetables. Toddlers to adolescents, should be given chewable multivitamins with iron along with an iron enriched diet. Items such as red meat, iron enriched cereals and pastas, tuna, seafood, beans and spinach, are all rich in iron.
"Ideally, we would prevent iron deficiency and iron-deficiency anemia with a diet consisting of foods that are naturally rich in iron," said Dr. Robert Baker, member of the executive committee of the AAP Section on Gastroenterology, Hepatology & Nutrition, and co-author of the report. "Feeding older infants and toddlers foods like meat, shellfish, legumes and iron-rich fruits and vegetables, as well as iron-fortified cereals and fruits rich in vitamin C, which help iron absorption, can help prevent iron deficiency," he said. "In some cases, children will still need liquid iron supplements or chewable vitamins to get the iron they need."