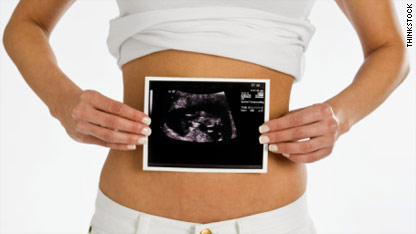 More American teens are getting gastric bypass surgery.  A small, but provocative study presented this week at the national conference of the American Academy of Pediatrics suggests there may be a link between gastric bypass surgery in teen girls and an increased risk of neural tube defects in their babies.
Dr. Diana Farmer, surgeon-in-chief at Benioff Children's Hospital in San Francisco, and her team started connecting the dots after a teen mother came to the hospital's fetal treatment center.  The fetus had spina bifida, a condition where a portion of the neural tube fails to develop or close properly.  The mother had recently undergone gastric bypass surgery.  Intrigued, Farmer did some research and found six additional cases of babies born with neural tube defects in mothers who recently had gastric bypass surgery.
So what's going on?  Farmer believes it's related to the bypass surgery.  Previous studies have found that patients who had bypass have a hard time absorbing nutrients, including folic acid, which helps prevent neural tube defects.  Approximately 2,500 infants are born each year in the United States with a neural tube defect like spina bifida.
Farmer says mothers who take a folic acid supplement can lessen the chances their child will develop a neural tube defect, but that often teen girls forget to take medicine.
Farmer believes teen girls should not have bypass surgery.  But if they do, she believes they should under go intensive counseling about the risks of nutritional deficiencies and  importance of using effective birth control.