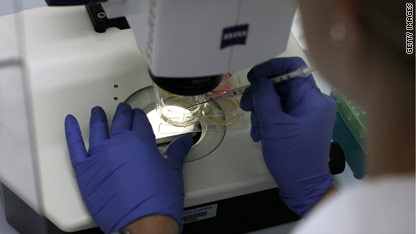 Thirteen years after Congress held its first hearing on human embryonic stem cell research, Dr. Francis Collins testified on Capitol Hill Thursday, explaining the importance of continuing the research and how the court order to stop funding this research has dramatically affected scientists.
"Many researchers across the country have considered modifying their research plans to turn away from an area of research that, while promising, is now fraught with uncertainty," said Collins, a geneticist renowned for mapping the human genome, and now Director of the National Institutes of Health.
Late last month, a U.S. Court of Appeals injunction blocked federal funding of the research. An Appeals Court later stayed that injunction, but the fate of funding still hangs in the balance and the government has until early next week to present its case.
"While we continue through the legal process, I hope that we can keep the patients and their families in our thoughts," Collins said. "They are at the heart of the NIH mission, and they are the ones who stand to benefit the most or lose the most."
The fight over this research was thrust back into the public eye when President Obama lifted the Bush Administration's restrictions on research last year.  When President Bush first approved federal funding of  human embryonic stems cell research in 2001, 60 existing stem cell lines – which were created before August 9, 2001 –  qualified for federal funding.  Of those, only 21 actually were usable for scientists.  Since the Obama administration's rules went into effect, a total of 75 stem cell lines qualify for federal funding. 
 "NIH has invested more than $500 million in human embryonic stem cell research; one of the most promising research avenues of recent times," said Collins.
Because embryos are destroyed when stem cells are removed for research, most opponents of embryonic stem cell research believe this is moral issue.  Senator Roger Wicker (R-MS) testified that "this is a matter of conscience for me and millions of Americans, who are deeply troubled that their taxpayer dollars would go to destroying a human life."
Senator Tom Harkin, a longtime supporter of human embryonic stem cell research said they've come too far to give up now. "If we don't win this battle in the courts, we'll take it up in Congress. This research must continue.  The politicians and the activist judges who oppose it need to respect the views of the overwhelming majority of the American people, who want this research to go forward."