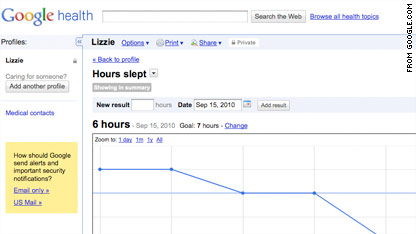 Google Health has gotten a redesign that makes this web tool more useful and straightforward for tracking your health.
When you first log in, you see a profile that can serve as your personal database for your health history. It is where you can keep track of the immunizations you've received, the allergies you have, the insurance you carry, and the medications you take. It's all in a handy portal.
Under "wellness," you can set goals for yourself when it comes to things such as sleep habits, blood pressure, weight, and exercise. As the days go by, you can actually see your progress on graphs based on the information you enter. And here's another fun feature: you can compare graphs on multiple categories, so you can see if your weight correlates with running or vegetable intake, for example.
The Progress Journal feature lets you keep a diary of your experiences with medications or the conditions you may be dealing with. This is where you can chronicle symptoms over a period of time and really see whether you are feeling better.
And if you have digital records or images that relate to your health, you can upload those into Google Health too.
As before, you can keep your advance directive - a document that states what your wishes would be if you were incapable of making decisions about your care - stored in Google Health.
But will all of this draw more people to Google Health? The portal, which launched in 2008, is one of the less used features that Google offers. People are reluctant to entrust so much important personal information in the hands of the search engine giant, CNET reports.