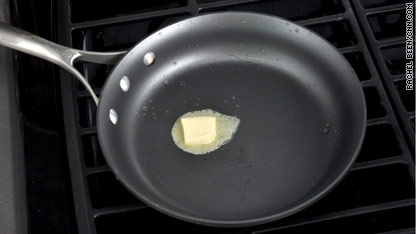 A new study published this week in the Archives of Pediatrics suggests that a group of chemicals called "perflorocarbons" can raise bad cholesterol levels in children.
Researchers looked at blood samples of more than 12,000 children, who lived in an area where the drinking water was contaminated with PFOA – one type of perflorocarbon – from a DuPont Chemical factory in Wood County, West Virgina.  The study was completed by the C8 Health Group, formed to study the environmental effects of the contamination from the plant,  and was commissioned as part of a class-action settlement.
"In this study, we saw an increase of about four to six  [cholesterol points], and an increased likelihood of having clinically abnormal cholesterol levels," said Stephanie Frisbee, a research scientist in the Department of Community Medicine at West Virginia University.
Perflorocarbons are found in many common household products, from non-stick cookware to stain-resistant carpets, to waterproof fabrics.  Frisbee said the children in this study were exposed to much higher levels than most Americans, due to the environmental contamination.  But, she said, perflorocarbons have been found at lower levels in the majority of the U.S. population.
"These chemicals are everywhere in the environment – from the Great Lakes, to the arctic to river sludge. We've all got them in our bodies."
Frisbee went on to say that these chemicals haven't been around long enough to determine their long-term health effects, if any.
"These chemicals can be in our bodies for three to five years. The big question is, are they doing any kind of damage while they're in our bodies? We don't know that, and it certainly needs more study."