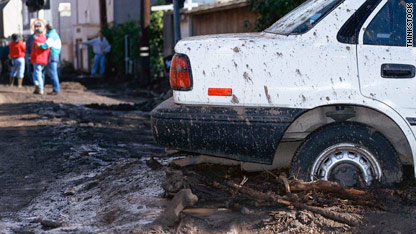 Would you try to Tweet your way out of a flood?
It turns out many people would resort to social media in the event of emergency, according to a survey from the American Red Cross.
The organization asked more than 1,000 American adults aged 18 and older about their social media participation and how they would react in a crisis. The findings were released ahead of Thursday's Emergency Social Data Summit in Washington, D.C. Here's the full report from the survey.
If calling 9-1-1 was unsuccessful, about one in five respondents said they would use digital media, such as e-mail, websites or social media, to ask for help in an emergency. In the past, 16 percent have used social media to get information about a crisis, the report found.
Almost half of respondents said they would use social media to tell loved ones they are safe. Of them, 86 percent would use Facebook, with a smaller portion turning to Twitter and other tools. If someone else needed help, 44 percent would try to get help by asking others in a social network to get in touch with authorities.
Those who are savvy about social media expect that means of communication to deliver results fairly quickly. About three-quarters of participants said they would expect help to arrive within an hour if they posted a request for help on a social media website.
Perhaps not surprisingly, it's younger people who are more likely to request help from social media or text messaging. Only 39 percent of people over age 35 said they would ask other people on network such as Facebook to help them get assistance, whereas 55 percent of people aged 18 to 34 said they would.