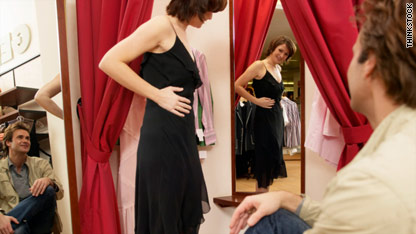 If you're a woman who loves to shop, your purchases may be unconsciously influenced by your hormones.
A new study, to be published in the Journal of Consumer Research, finds that women at peak fertility are more likely to buy sexy, revealing clothes than women of a similar age range who are at less fertile points in their cycles.
Near ovulation, women are more likely to conceive. Previous studies have shown that women prefer more masculine men during this fertile time period each month. It makes sense that they would also want to show off their bodies more then, says lead author Kristina Durante of the University of Minnesota.
"Our mating choices need to be optimized at that time, so we need to make sure that we're looking good," Durante said. "Since poor mating choices have very high consequences when you're ovulating, it makes sense that you need to really be on your game."
The study instructed women to shop for clothes using a website created specifically for the research. They could choose 10 items of clothing, without brand names, out of 128 - half of which were sexy and alluring, and the other half of which were more conservative. For instance, there was a mini-skirt and a longer skirt to choose from.
The researchers believed that women might be choosing the sexy clothes because they wanted to impress men, or because they wanted to beat out their competition, or both. So, in one phase of the study, they showed some women photographs of attractive men, and others photographs of attractive women, before doing the shopping test.
It turns out that seeing attractive men made women shop for sexier clothes regardless of their fertility, perhaps unsurprisingly. But the ovulation hormones seemed to kick in to explain the clothing choices when they viewed images of attractive women.
What's more, the study found that women were most likely to choose the revealing attire when presented with other attractive women who were said to be local. Women did not behave the same way when told that the attractive women lived 1,000 miles away. Somewhat related, here's a study on mate-copying.
The women were 18 to 27 years of age. Half of them were single and half said that they were in committed relationships, and their relationship status did not seem to affect their shopping behavior in the study, Durante said.
Being aware of this effect may help women who are trying to regulate their shopping behavior, Durante said.
For anyone trying to sell clothes: Using more local, "everyday"-looking women might make women more likely to buy than famous models who obviously don't live in the area, she said.