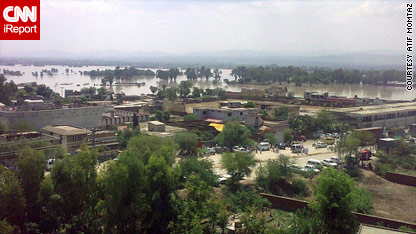 A medical team from a hospital in northwest Pakistan is using a grammar school near the edge of floodwaters as a makeshift clinic to care for survivors of the region's devastating flooding.
The owner of the school was trapped on his roof for about 12 hours, but pitched in to help once he was rescued, said Atif Mumtaz with the UM Healthcare Trust, which provides affordable healthcare in rural Pakistan.
Doctors have treated about 400 people since the clinic opened in Nosherha on Sunday – mostly injuries, water-born diseases, pneumonia, heart problems, dehydration and exhaustion, Mumtaz said.
See his iReport.
Supplies at the clinic are pretty "meager," said Mumtaz said there's an urgent need for antibiotics, vaccines and other drugs as well as clothes, clean water and utensils.
He said he has not yet seen aid from the United Nations, the Red Cross or the Pakistani government.
The government has deployed boats and helicopters in the region but says the flooding has destroyed 25 bridges. 
Officials fear disease outbreak in flood-hit Pakistan
"It's the ordinary people who are helping other people," Mumtaz said. "It's the victims themselves who are opening their doors to help."
Find out more about the situation on the UM Healthcare Trust's website and on Mumtaz's Flickr page.To find out how you can help, check out CNN's Impact Your World page