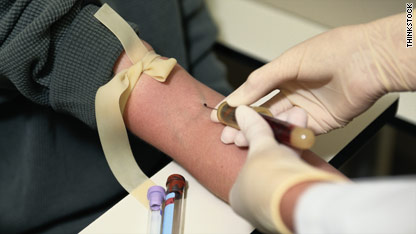 Most men diagnosed with prostate cancer are undergoing aggressive treatment even if their prostate-specific antigen (
PSA
) level and risk of disease are actually low, a new study found.
PSA is a protein made in the prostate gland. It's normal for men to have a small amount of this protein in their blood, but elevated levels could be a sign of cancer or other prostate disease. Typically a PSA level below 4.0 nanograms per milliliter is considered normal and that number is used to determine whether a biopsy or further testing is necessary.
In a report in the Archives of Internal Medicine researchers looked at risk and treatment patterns of nearly 124,000 men that had just been diagnosed with prostate cancer between 2004 and 2006. Fourteen percent had PSAs 4.0 nanograms per milliliter or below. Fifty-four percent of those had low-risk disease–stage II or lower–yet prostatectomy or radiation therapy was the treatment chosen for 75 percent of the group.
"It is clear from our current study that men are choosing aggressive forms of treatment when they may not need to. This is especially concerning for older men, as previous studies done by our team show excellent disease-specific survival for men with low-risk cancer following conservative management," says Dr. Grace Lu-Yao, senior author and cancer epidemiologist at the Cancer Institute of New Jersey. "Because this is the most comprehensive study of U.S. men in this population to date, we anticipate that these results will help both physicians and patients more closely examine a man's treatment needs."
One-third to 70 percent of men who are diagnosed with prostate cancer through screening get treatment that they don't need, according to Dr. Otis Brawley, chief medical officer at the American Cancer Society. "Over the last 10 years it has progressively become more popular, if you have a low-grade prostate cancer there's a movement toward watching it and after active observation over several years if it seems to be growing, to treat it," Brawley says. " If is seems not to be growing, to continue active observation–or what use to be called watchful waiting."  He adds:  "This study is actually important because it shows that there's a whole bunch of men who have gotten very aggressive treatment for prostate cancer who should have gotten watchful waiting."
Brawley says robust data how that breast, cervical and colon cancer screening and early detection saves lives, but no such data exist for prostate cancer.
Researchers have discussed lowering the the PSA level to 2.5. But Lu-Yao says that could result in even more unnecessary treatments. "Because the inability still exists to determine whether prostate cancers are slow growing or aggressive, lowering the PSA threshold might increase the risk of overdiagnosis, which could lead to treatment that holds no benefit for the patient or could have adverse side effects."
It's a complicated issue that needs more studies, says study co-author Dr. Mark Stein. "There are men in the low-risk category who aren't low risk.  We need better ways of teasing out who that is. You don't want to undertreat people either. This article does not say having a PSA of less than 4 is necessarily safe, that there is no such thing as high risk aggressive cancer in that population. You can have more aggressive tumors in that range, so there is that double-edge problem."
Stein says another problem is telling someone they have cancer that shouldn't be treated, just watched. "In the United States, it's hard to tell people you have cancer and you are not going to do anything about it."  Brawley agrees. "We have data that proves that the suicide rate is higher among men who are being watched than among that same age group of men who have not been screened or diagnosed."