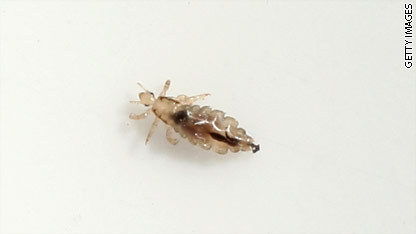 It's almost time to go back to school, not only for children, but also for lice.  The American Academy of Pediatrics is offering new guidance on how to treat the most difficult cases of the pesky parasite.  "We're still recommending the first line products because they have an excellent track record, but making sure parents are aware of second line products most of which are available by prescriptions," says Dr. Barbara Frankowski, one of the study authors and a pediatrician in Burlington, Vermont.
According to the Mayo Clinic, lice are second only to the common cold among communicable diseases affecting schoolchildren.  Adult lice are about the size of a strawberry seed.  Often by the time they are visible they have been around for a weeks, says Frankowski.
Typically, lice can be treated with "comb in" over-the-counter medicines.    However, over-the-counter medications don't work for everyone.   "We now have lice that are resistant to medications," says Frankowski.
Home remedies such as suffocating the lice with Vasoline, can also work, as long as treatment is consistent.
In those cases, doctors have new prescription medicines in their arsenal, Ovide and Ulesfia.  However,  if you use it, make sure to read the directions carefully.  Ovide is flammable.  You shouldn't use a hair dryer or apply it in a kitchen where there is a gas stove, says Frankowski.
As for the age old question of whether a child should stay home while being treated for lice, Frankowski gives this guidance:  "It makes no medical sense to send somebody home [from school] if you find lice, because by the time you see something the child has had the infestation for several weeks."