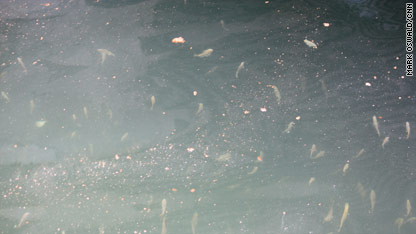 More  information is needed to determine the safety of the chemicals being used to help contain spilled oil from the Deepwater Horizon disaster, says Sen. Frank Lautenberg, D-New Jersey. He announced plans at a recent hearing  to introduce a bill to ensure longer-term testing of the chemicals, known as dispersants.
The bill, expected to be introduced early next week, would require dispersants to be tested for health effects under a variety of conditions, ban the use of non-approved dispersants and require chemical ingredients in dispersants to be made public.
"Current law lacks the protections to ensure chemical dispersants are actually helping - and not harming - the relief workers, families, and wildlife up and down the coast," said Lautenberg in a statement. "I plan to introduce legislation to ensure that we aren't fixing one environmental disaster by creating another."
At the hearing, Lisa Jackson, U.S. Environmental Protection Agency administrator,  called for more testing on dispersants and more transparency about their ingredients.
More than 1.8 million gallons of dispersant have been used in the Gulf oil disaster response to date. Dispersants break up the oil, keeping it in the water and away from the shore.
On May 20, the EPA and U.S. Coast Guard directed BP to use a dispersant less toxic than the one it was employing,  Corexit 9500. When BP did not comply, the government agency ran tests on eight EPA-authorized dispersants, including Corexit – results of which show only slight variation in terms of their safety.
New dispersant legislation "would give us critical transparency and openness protections that right now EPA cannot provide by law," said Jackson.
As of now, the EPA requires manufacturers to submit data on toxicity and effectiveness in order to get a product listed on the National Contingency Plan Product Schedule (NCPPS), a list of products authorized by the EPA for use in an emergency.
In the event of an emergency, the Federal On-Scene Coordinator uses the list to determine which dispersant to use. However, there is no set limit on toxicity for a product to be listed.