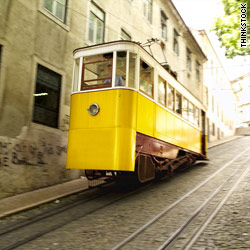 Would you give your life for your country? What about your religious group? Your soccer team?
Some people feel a shared essence with a group they're part of  and feel that just as they make the group strong, the group gives them strength too. For better or worse, some perceive such a strong tie that they would be willing to commit extreme acts, including self-sacrifice, in order to save other group members, psychologists say.
A study to appear in the journal Psychological Science looked how more than 500 Spanish college students would respond to a question of self-sacrifice when faced with the chance to save the lives of fellow Spaniards, "Europeans," and Americans. Spain is part of Europe, which therefore has social and political ties with Spain. That makes Europeans part of the extended "in-group," while America is far removed from it and thus an "out-group."
They presented participants with a hypothetical situation called the "Trolley Problem," which has been around in some form since 1967. According to the study:
Participants learned that two runaway trolleys were hurtling down two parallel tracks. One trolley was about to kill five extended in-group members (e.g. Europeans). The other trolley was about to kill five out-group members (e.g. Americans). If participants did nothing, the runaway trolleys would kill both groups. If they jumped onto one set of tracks, the five Europeans would be saved but the participant and the Americans would die; conversely, if they jumped onto the other set of tracks, the Americans would be spared but the participant and the Europeans would die.
Based on students answers to a questionnaire, researchers identified 38 percent of the participants as "fused" with Spain - in other words, those who expressed very strong ties to their country. They found that 75 percent of fused participants said they would jump to their deaths to save five Spaniards, and 88 percent said they would sacrifice themselves for five other Europeans, but not Americans.
"The primary conclusion is that these fused individuals are going to be more likely to engage in extreme behaviors," said Bill Swann, professor of psychology at the University of Texas at Austin and co-author of the paper. "It certainly suggests that one of the important predictors of these extreme behaviors may be a psychological one."
In another part of the study, in which 171 Spaniards answered questions, the researchers asked participants about whether they would allow someone in the group to sacrifice himself or herself, or push that person aside and commit the act personally. According to the study:
Participants were asked to imagine that it was March 11, 2004, the day when terrorists detonated several bombs in the Madrid trolley station. Just after the bombs exploded, while standing on a footbridge over several tracks to the station, they see the terrorists running on one set of tracks below. Beside them, another Spaniard is preparing to jump onto the path of an approaching trolley. The Spaniard knows that he will die but also knows that the approaching trolley will avoid him by veering onto the track where the terrorists are running, killing them. The participant is then given the option of either allowing the other Spaniard to jump or pushing him aside and jumping to his or her own death causing the trolley to divert and kill the terrorists.
Researchers found that 63 percent of fused participants would rather push aside an in-group member and jump to their own deaths, whereas the majority of non-fused participants preferred letting the in-group member jump. In other words, people who feel fused seem to want personal involvement in exacting justice on behalf of their group, even if that means losing one's life.
Most people who do feel "fused" only identify so strongly with one group at a time. That means that when vets return from fighting abroad, it may be hard to reconcile a powerful affiliation with the military and the expectation of identifying with family life, as illustrated in the film "The Hurt Locker," Swann said.
More research is necessary to figure out why some people are fused and others aren't, Swann said. This identity fusion is not a good or a bad thing in and of itself, but can lead to negative consequences such as terrorism, or positive consequences such as devotion to a career.
Further research is looking at how identity fusion may be different in countries such as China and Australia, he said.