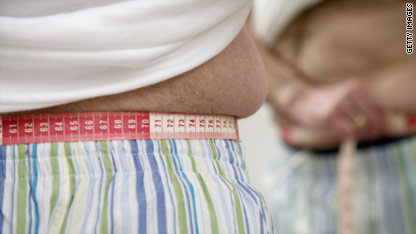 On Thursday, a Food and Drug Administration advisory committee will discuss safety and efficacy of a new diet drug called Qnexa, one of three weight-loss medications the agency will consider for approval this year.
The drug, from Vivus Inc., is meant to be used in combination with diet and exercise by obese patients. The drug is a once-a-day, oral, controlled-release formulation of low dose phentermine and topiramate, which is believed to address both appetite and satiety – the two main mechanisms that affect eating behavior, according to the company.
Phentermine was half of the popular diet drug combination, Fen-Phen, which was  pulled off the market in 1997 by the FDA after being linked to heart valve disease. Topiramate, also known as Topamax, is an anticonvulsant used to treat migraines and seizures.
Here is the briefing information (the documents are more than 200 pages long) that the advisory committee will consider.
In clinical trials, about 45 to 69 percent of Qnexa users lost more than 5 percent of their baseline body weight.  This was compared with the placebo group, in which 20 percent lost more than 5 percent of their baseline body weight. The groups taking the varying doses of the drug had improvements in blood pressure, lipids, and glycemia.
The five areas of drug safety concerns pertain to developmental malformations,  psychiatric-related adverse events, cognitive-related adverse events, metabolic acidosis and cardiovascular events.
The incidence of depression-related adverse events increased with higher dose of Qnexa in the clinical trials. "It should be pointed out that approximately 4 to 7 times as many subjects randomized to high-dose [Qnexa] versus placebo discontinued study participation due to anxiety-, sleep-, and depression-related adverse events," the report stated.
The company is also proposing to conduct a large cardiovascular outcomes trial if Qnexa is approved for the treatment of obesity.
Two other weight-loss drugs, Lorcaserin and Contrave are also expected to have FDA advisory committee reviews later this year.
Check back to CNNHealth.com Thursday for more on diet drugs.