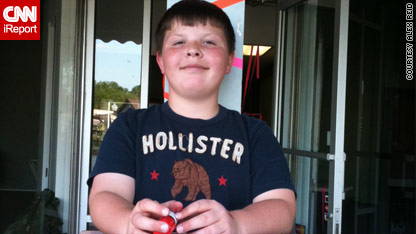 At age 10, Marshall Reid, an iReport contributor, is a child chef who reinvents popular dishes.
Shredding iceberg lettuce in the kitchen, Marshall discussed ways to make a taco salad healthier.  Marshall's "healthy spin" recipe included lettuce, ground turkey and beef, low-fat cheese, light sour cream, tomatoes, and cilantro.  And there's no fried taco shell for his Day 26 dinner.
On a 31-day mission, Marshall kicked off a summer challenge called Portion Size Me where he cooks healthy meals for him and his family.   This challenge was inspired by the movie "Super Size Me."  His videos often feature him grilling sweet potatoes, corn, portobello and turkey burgers.
So far, he has lost 11 pounds in less than a month, his mother, Alex Reid said. The challenge wasn't about pounds, but making better lifestyle choices, she added. Marshall also wants to become more active and has told his mother he wants to start playing football this year.
Why Marshall started his journey.
When his Portion Size Me challenge ends Saturday, Marshall may take on new goals such as making 10 days of healthy, affordable dinners on a budget or making 10 days of nutritious school lunches.
"We have to keep this going, because he's excited and full of energy," said Reid, of Sanford, North Carolina.  "He has always loved cooking."
Marshall and his older sister, Jordan's video updates are available on iReport and YouTube.