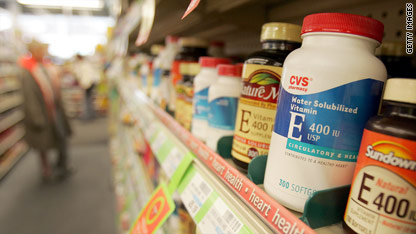 A  lot of research in recent years has provided evidence both for and against individual vitamins and supplements helping to reduce risk of brain diseases common in old age. The consensus is generally that nothing is certain to work, as CNN reported in April.
But there continue to be hints that particular vitamins may carry benefits in this area, as three studies out this week suggest.
Vitamin E
Researchers report in the Archives of Neurology that foods rich in vitamin E are associated with lower dementia risk. This is based on more than 5,000 people age 55 and older who did not have dementia between 1990 and 1993. They were followed up with about 10 years later on average.
The one-third of people studied who ate the most vitamin E - via foods such as margarine, sunflower oil, butter, cooking fat, soybean oil and mayonnaise - were 25 percent less likely to develop dementia than the one-third of participants who consumed the least.
When cells get damaged from oxygen exposure, this may contribute in Alzheimer's disease. Vitamin E is an antioxidant that may prevent the development of dementia in the brain, the authors conclude.
But this is not a controlled experiment; participants were not randomly assigned to diets with and without high levels of vitamin E. And clinical trials have not conclusively shown that this vitamin when taken as a supplement has this benefit. Also, all participants came from the Netherlands. Further research is needed.
Vitamin D
Another study in Archives of Neurology found that people who have higher levels of vitamin D may have a reduced risk of developing Parkinson's disease. How vitamin D provides this benefit is unknown, researchers say.
This study, led by Paul Knekt of Finland's National Institute for Health and Welfare, looked at more than 3,100 participants who did not have Parkinson's disease when the study began (1978 to 1980). After about 29 years, 50 of them had developed Parkinson's, and those with the highest vitamin D levels had a significantly lower chance of developing the disease than participants with the lowest levels.
Again, this is not a controlled experiment, and it is specific to one country, but experts say the work is important.
"Knekt and colleagues' study provides the first promising human data to suggest that inadequate vitamin D status is associated with the risk of developing Parkinson's disease, but further work is needed in both basic and clinical arenas to elucidate the exact role, mechanisms and optimum concentration of vitamin D in Parkinson's disease," writes Dr. Marian Leslie Evatt of Emory University in an editorial.
More research is also needed to examine vitamin D's role in cognitive decline.
A study in the Archives of Internal Medicine finds that older adults deficient in vitamin D were 60 percent more likely to show substantial cognitive decline than participants with adequate levels. Researchers looked at 858 adults aged 65 and older.
Again, this is not a randomized controlled trial, but merely an observational study that provides the springboard for further investigation. An editorial in the journal calls for such trials.
Here's a recent article on depression and dementia.