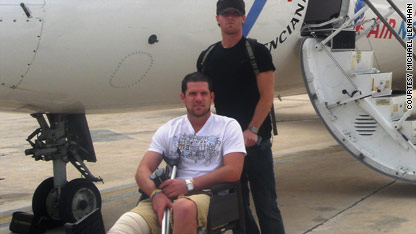 After Michael Lenahan went through chemotherapy and recovered from testicular cancer, he decided he would do one thing every year that he'd always wanted to do.
In the summer of 2007, he and his brother went to Pamplona, Spain, for the Running of the Bulls - something his brother Lawrence had his mind set on, and that sounded exciting to the cancer survivor. Michael was 23, Lawrence was 26. The older brother told CNN in 2007 that it was also a trip to "celebrate life in a way a little bit more intensely."
They joined the millions of people in white shirts and red bandannas who invade the small city for the festival of San Fermín, which takes place from July 7 to July 14 every year. In the mornings, the daredevils among the revelers run along with bulls through Pamplona all the way to the bull ring.
It's an event that leaves between 200 and 300 people  injured annually, according to the Council of Pamplona.
The brothers' plan was to run on the first day, enjoy the festivities, and check out other European destinations.
But that plan was ruined by a bull that, in the midst of the commotion, gored both brothers at the same time with each of its horns - Michael in the leg, Lawrence in the left buttock.
"I could see the back of my knee bone. It was a pretty bad wound," Michael Lenahan said this week, looking back on the experience. "I thought in the chaos of the moment that I was definitely going to have to lose my leg."
The first 12 hours after the bull attack were the scariest for Michael, but once doctors told him he would be OK, he just wanted to know how he could get home. He had already been through a life-threatening event involving hospitalization, so as long as he knew his leg would recover, it "wasn't that big of a deal."
"By that point, I was pretty used to those types of circumstances, and dealing with doctors; all of the drama that comes with that kind of a thing," said Lenahan.
The brothers stayed hospitalized for a week, and then returned to their respective homes in the United States. Lenahan has no lasting damage to his leg, except for some scars to remind him of that fateful day.
Will Lenahan go back? "Definitely," he said, although he'd probably choose a different route.
"My advice would be: don't run on the first day; watch it first, because it's not like what you see on YouTube," he said. "It's a lot faster, and a lot scarier than what you see just watching it on a computer screen."
As for how he's changed after these monumental experiences, Lenahan says he was more conservative by nature before he got cancer, and now dabbles more in risky ventures.
"I think they've probably both [cancer and the Spain injury] given me a little bit more perspective about what's important to me vs. what's not," he said.