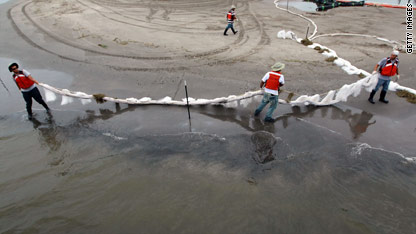 Surveillance data tracking illnesses and injuries related to the Gulf Coast oil disaster do not indicate any trends that require further public health investigation at this time, according to a web page established by the Centers for Disease Control and Prevention.
The CDC works with state and local health departments from the five affected Gulf states to monitor public health. It uses two national surveillance systems to track symptoms related to the eyes, skin, respiratory, cardiovascular, gastrointestinal and neurological systems, including worsening of asthma, cough, chest pain, eye irritation, nausea, and headache.
One of the surveillance systems, called BioSense tracks changes in the population by accessing data from 86 coastal health care facilities in Alabama, Florida, Louisiana, Mississippi, and Texas.  Medical staffers are watching for possible syndromes that could be related to the environmental disaster.
The crude oil began to leak into the Gulf of Mexico on April 20 after an explosion aboard an offshore oil rig. Click here for CNN's complete coverage of what's believed to be the largest oil disaster in history.
The CDC also answers questions about health effects.  Its experts say that the level of chemicals are  below the levels that could cause harm.  Here are more questions answered by the CDC regarding its possible health effects.