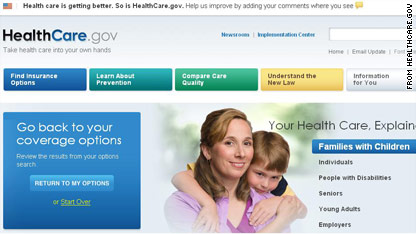 Confused about the health reform juggernaut that passed in March?
The government's new website, launched this month, attempts to answer your questions. Kathleen Sebelius, secretary of Health and Human Services wrote in a note to users that it will "identify both the private and the public health coverage options available in your local community."
Users of Healthcare.gov can see which public, private and community programs fit their needs by filling out their state of residence, age group and family situation.  Based on these and other criteria, the site lists options such as insurance from a pool of people with pre-existing conditions or places to find free or reduced cost care.  It links to the Pre-Existing Condition Insurance Plan, which was created to make health insurance available for people who have been uninsured for at least six months and have been unable to get insurance because of a pre-existing health conditions.
CNNmoney reports on High risk pools: $5 billion for the uninsured
There also are tips on prevention as well as a timeline that marks expected health care changes in the future.
The website breaks down information according to demographic categories such as young adults, families, seniors and links to pages that contain frequently asked questions.