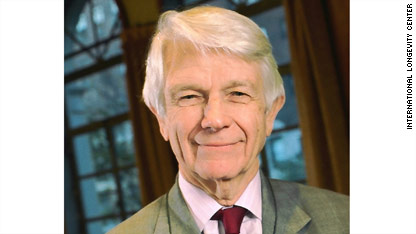 Dr. Robert Butler, regarded as "the father of geriatrics," died Sunday at age 83. He had leukemia.
His accomplishments included serving as the first director of the National Institute on Aging, where he shaped the aging policy in the United States. His most recent book is "The Longevity Prescription: The 8 Proven Keys to a Long, Healthy Life."
About two months ago I spoke to Butler, founder of the International Longevity Center, for a blog post about "Lost." Poignantly enough, the topic of our discussion was how people can live longer lives.
"We discovered in studies we did at the National Institutes of Health in the 1950s and 60s that people [who] have something purposive in life, something to get up for in the morning, something that makes a difference, tend to live longer, and better" he said. "Also relationships, having connections, is important."
Stress, he said, is "a real killer," but in the modern world it's hard to be free of anxiety and stress. Take vacations if you can, and try meditation if you can't, he said.
He also warned that stigma against the elderly can take a toll on their lives. "Treating old people negatively, which is not an uncommon thing, also shortens life, by virtue of providing more stress," he said.
He predicted in our conversation that in the next 100 years we might have real control over the aging process and be able to slow it down, but that the idea of living forever is "pretty romantic."
Butler also told me that there's not enough scientific evidence to prove it yet, but he suspected that a certain sharp sense of humor and feelings of joy might also help prolong life.
"I sometimes think being able to laugh at yourself, to experience true merriment, maybe even… when you have so much fun you just can hardly stand it – I think that kind of happiness may be a major contributor - but I didn't have enough nerve to say it yet in this book, because I wasn't quite sure we had the science to back it."