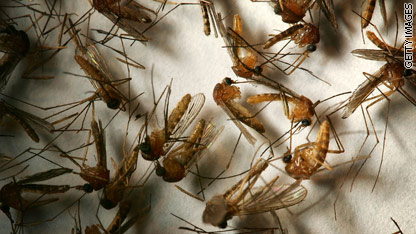 Jerry Davis spends a lot of time thinking about mosquitoes.  Davis is the manager of the Turlock Mosquito Abatement District in Turlock, California.  The West Nile virus has started showing up in his central California community.  So far, three dead birds have tested positive for the virus.  It's hard to catch Davis in the office.  This is his "busy season."  "It's like Christmas or tax day," he says.
According to the Centers for Disease Control and Prevention, since 1999 when West Nile was first discovered in the United States, over 29,000 people have been diagnosed with the disease.  Of  those, more than 12,000 people have been seriously ill.  Just over a thousand people have died.  Here are the three things you need to know about the West Nile virus.
What are the symptoms?
According to the Mayo Clinic, most people with West Nile virus have no symptoms.  In about 20 percent of cases, people develop a mild infection called West Nile fever.  The symptoms include fever, headaches, body aches and fatigue.  In less than 1 percent of infected people, the virus causes a serious  neurological infection such as encephalitis.
What can I do to protect myself and my family?
The best thing to do is wear insect repellent.  Click here for a list of the best repellents to use.  You should also wear long sleeves and pants if possible.  You should also get rid of standing water, which can be a breeding ground for mosquitoes.
How bad is West Nile in my state?
Every state health department keeps statistics.  Click here to see your state's West Nile webpage.