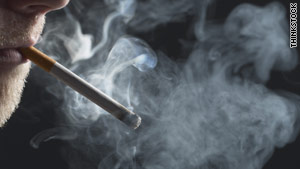 By David Martin
CNN Medical Senior Producer
Rich nation or poor, high blood pressure and smoking pose the biggest risks for stroke, according to a new 22-country study released Friday.
"They are important risk factors everywhere," said study co-author Dr. Martin J. O'Donnell with the Population Health Research Institute at Canada's McMaster University.
Rounding out the Top Five risk factors for stroke were waist-to-hip ratio, a measure of abdominal obesity; diet, considering how many fruits and vegetables were eaten daily; and physical activity. These  factors accounted for more than 80 percent of the total stroke risk, according to the study.
"These risk factors are even more important than we thought," said O'Donnell, who co-wrote the study with Dr. Salim Yusuf, also of McMaster University. O'Donnell and Yusuf were scheduled to present the study Friday at The World Congress of Cardiology in Beijing.
O'Donnell said the results offered a blueprint for health policies aimed at reducing stroke, the second-leading cause of death worldwide. High blood pressure is easily screened and can be treated with inexpensive medication, while quitting smoking immediately starts lowering risk, he said.
The global reach of the study sets it apart from previous stroke research.
High blood pressure had been well established as the leading cause of stroke in North America and Europe. This study shows high blood pressure also poses the biggest risks elsewhere in the world, such as China and India.
High blood pressure increased the risk of stroke two-and-a-half times, while smoking doubled it, according to the study. High blood pressure was associated with a third of all strokes; smoking, a fifth of all strokes, the study found.
Other Top 10 risk factors for stroke found in the study: the ratio of bad to good blood lipids (fats), diabetes, alcohol intake, stress and depression, and heart disorders. The Top 10 factors are associated with 90 percent of stroke risk.
In addition to offering a blueprint for health policy, O'Donnell said the study could also help individuals, since the majority of risk factors are linked to lifestyle.
"Most of the behaviors are modifiable," he said.
The study gathered data from 6,000 people in 22 countries in North and South America, Asia, Africa and Australia, looking at 3,000 patients who had suffered a first stroke and 3,000 controls.
These results represent the first phase of a two-phase study, called INTERSTROKE. The second phase will look at 20,000 patients and increase the number of countries participating to 27. Results are expected in 2013, O'Donnell said.
The study was funded by the Canadian Institutes of Health Research, Heart and Stroke Foundation of Canada, Canadian Stroke Network, and the pharmaceutical companies Pfizer, Merck, AstraZeneca and Boehringer Ingelheim.
Editor's Note: Medical news is a popular but sensitive subject rooted in science. We receive many comments on this blog each day; not all are posted. Our hope is that much will be learned from the sharing of useful information and personal experiences based on the medical and health topics of the blog. We encourage you to focus your comments on those medical and health topics and we appreciate your input. Thank you for your participation.