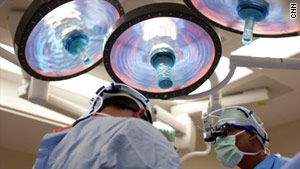 By Sabriya Rice
CNN Medical Producer
A hospital in San Diego, California, is warning 3,400 patients who underwent colonoscopy and other procedures that they may have been exposed to potential of infection from items used and reused during the procedures. The hospital says some of the recommended steps may not have been completed while disinfecting the equipment. They believe the risk is low, but they are informing the patients by letter as a precautionary measure. (Read more here)
Unfortunately, incidents like these are not rare occurrences. For example, a 2009 inspection of Veterans administration facilities found many did not have the safety procedures in place to ensure colonoscopy equipment was sterilized properly between patients. According to the Centers for Disease Control and Prevention  healthcare-associated infections or HAIs account for an estimated 1.7 million infections and 99,000 associated deaths each year.
The National Conference of State Legislators and the Committee to Reduce Infection Deaths offer state-by-state lists of laws pertaining to hospital-acquired infections. The Department of Health and Human Services has a series of fact sheets about four categories of HAIs in acute care hospital settings. In her column Don't Let a Hospital Kill You, Senior Medical Correspondent Elizabeth Cohen offers tips to help reduce your risk of acquiring a hospital infection during surgery. Finally, Consumer Reports has this information on hospitals 10 states that are publicly reporting the numbers of central-line-related bloodstream infections in their intensive-care units and the Leapfrog Group allows you to compare hospitals on various aspects including infection reduction and medical error prevention.
Editor's Note: Medical news is a popular but sensitive subject rooted in science. We receive many comments on this blog each day; not all are posted. Our hope is that much will be learned from the sharing of useful information and personal experiences based on the medical and health topics of the blog. We encourage you to focus your comments on those medical and health topics and we appreciate your input. Thank you for your participation.