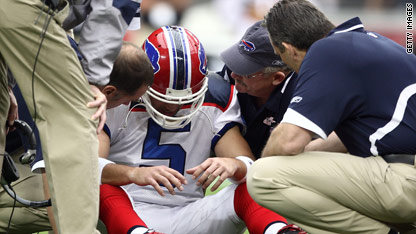 By Madison Park
CNNhealth.com writer/producer
Even without symptoms, blows to the head can be deceptively severe,  neurologists are warning at a meeting on football and brain injury.
These "can lead to long-term consequences or later emergence of symptoms," said Dr. Constantine Lyketsos, a doctor at Johns Hopkins University School of Medicine after a daylong seminar with the NFL.  "Symptom severity is not a clear indicator of how badly the brain is injured."
Experts from Johns Hopkins Medicine, medical reps from all 32 NFL teams and commissioner Roger Goodell discussed head injuries on Wednesday.
The NFL has been accused of minimizing evidence about the dangers of football concussions. New medical committee members have vowed to change that culture.  Read about one ex-player's struggle
Lyketsos said a study has shown an average college football player endures about 950 blows to the head during a season.  Doctors say that duress on the brain can accumulate over time.  It might be worthwhile to monitor the force and the number of times a player is struck. Some helmet technology allows real-time monitoring of the impact of hits to the head.
The four major topics in the meeting were 1) asymptomatic effects of blows to the head and their consequences, 2)  head injuries and their relation to cognitive decline, dementia, depression, 3) chronic traumatic encephalopathy, repeated head injury, often seen in professional boxers that also occurs in NFL players and 4)  how long it takes for the brain to recover after a significant hit.
CNN.com: Dead athletes' brains show damage from concussions
This research isn't relevant only to elite football players.
"What we learn about long-term consequence for football players has implication for millions of athletes who suffer concussion and head blows," Lysetkos said.  "It also has implications for soldiers who are at increased exposure to blasts."
Editor's Note: Medical news is a popular but sensitive subject rooted in science. We receive many comments on this blog each day; not all are posted. Our hope is that much will be learned from the sharing of useful information and personal experiences based on the medical and health topics of the blog. We encourage you to focus your comments on those medical and health topics and we appreciate your input. Thank you for your participation.