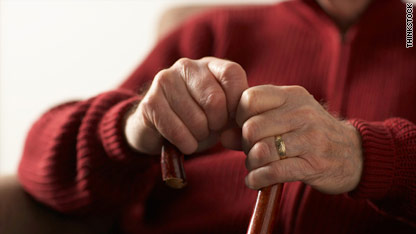 By Sabriya Rice
CNN Medical Producer
Many international organizations will be marking World Elder Abuse Awareness day on June 15, and a recent California case highlights just how troubling a reality elder abuse can be.
On May 26, Cesar Ulloa, a former caregiver at Silverado Senior Living in Calabasas, California was sentenced to six years to life in prison on charges of torture and elder abuse. The Deputy District Attorney, Robin Allen, cites unthinkable charges against Ulloa including, "body-slamming" a 74 year-old woman, diving from a dresser onto an elderly man, and covering another man with a sheet then hitting him repeatedly in the face. In a statement to CNN, a Silverado Senior Living spokesperson said one of the reasons some of the other caregivers didn't report the abuse was because they felt intimated by the defendant, and the residential care facility has since initiated a confidential 1-800 number where reports can be made.
According to the National Center on Elderly Abuse almost 2 million Americans age 65 or older have been injured, exploited, or mistreated by a person they depend on for care, and a National Ombudsman Reporting System survey finds complaints of physical, verbal and sexual abuse to be among the top 20 complaints of residents at nursing home facilities. Experts say it may be difficult to detect abuse of older adults living in institutional settings, especially if the patient already suffers from severe mental or physical illness. Here are 3 things you can do to help:
1) Know the warning signs: According to the Los Angeles County District Attorney's office, all of the victims of the California case mentioned above "suffered from dementia and were unable to speak or report the abuse". Experts say, that's why it is important for friends and family to visit frequently and know the warning signs of abuse. The AARP lists unexplained bruises, extreme changes in behavior, a refusal to allow visitors and sudden weight loss as signs indicating potential physical abuse. The National Center on Elder Abuse has a list of other common warning signs for everything from physical to financial maltreatment.
2) Report Abuse: If you believe a senior you know is being mistreated, submit a report to the National Center on Elderly Abuse. Also, the National Consumer Voice for Long-Term Care, an advocacy group which monitors substandard care in nursing homes, offers a list of state ombudsman who can provide assistance to residents of long-term care facilities.
3) Chose Carefully: If you are in the process of selecting a nursing home, Medicare.gov provides detailed information and quality ratings for facilities certified through Medicare and Medicaid. They also provide a link to alternatives to nursing home care. You can also check out this this state-by-state list of nursing home staffing and standard regulations.
Editor's Note: Medical news is a popular but sensitive subject rooted in science. We receive many comments on this blog each day; not all are posted. Our hope is that much will be learned from the sharing of useful information and personal experiences based on the medical and health topics of the blog. We encourage you to focus your comments on those medical and health topics and we appreciate your input. Thank you for your participation.