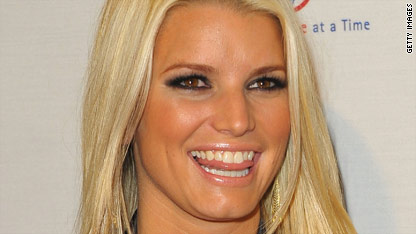 By Madison Park
CNNhealth.com writer/producer
It's not only tartar build-up and nasty gum diseases you have to worry about. If you don't brush your teeth twice a day, you're more likely to develop heart disease, says a new British study.
Someone tell Jessica Simpson.
Earlier this month, the pop singer and sometimes-actress, told Ellen DeGeneres that she  brushes her teeth only about three times a week, because she doesn't like them to "feel too slippery."
"I don't brush them everyday. I'll use a shirt or something ... I know it's gross, but I always have fresh breath," she said.  Simpson added that she's a big fan of Listerine and floss.
So keep in mind - just because they're pearly and sheen, it doesn't mean they're clean.
Other ways you might be ruining your teeth
The study published Friday in the British Medical Journal found that individuals with poor oral hygiene have a 70 percent increased risk of heart disease compared with people who brush twice daily. Read research here
This adds to existing research that shows having bad oral hygiene can lead to  problems, including inflammation that could clog arteries.
Researchers from the University College London analyzed data from a Scottish health survey, looking at responses from 11,000 adults about smoking, physical activity and oral health routine – including how often they visited the dentists and brushed their teeth. Their family and personal medical histories, blood pressure and samples were taken, too.
About 71 percent reported brushing their teeth twice a day and 62 percent said they visit a dentist twice a year*.  Those with poor oral hygiene  had higher risk of heart disease and also tested positive for inflammatory markers such as the C-reactive protein and fibrinogen.
People magazine interviewed Simpson's dentist, Dr. Bill Dorfman, who was surprised to hear his patient did not brush twice a day.
"It's great that she's flossing all the time, but you have to brush too," Dorfman told People. "What goes on in your mouth really affects your whole body."
[*An earlier version of this post incorrectly stated the frequency of dental visits by people in the study.]
Editor's Note: Medical news is a popular but sensitive subject rooted in science. We receive many comments on this blog each day; not all are posted. Our hope is that much will be learned from the sharing of useful information and personal experiences based on the medical and health topics of the blog. We encourage you to focus your comments on those medical and health topics and we appreciate your input. Thank you for your participation.