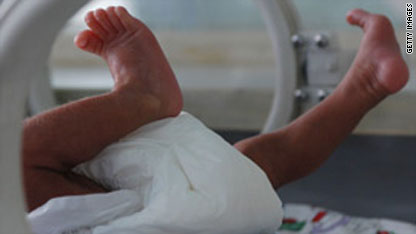 By Ann J. Curley
CNN Medical Assignment Manager
For the first time in nearly three decades, preterm births in the U.S. dropped for two years in a row for mothers of all ages under forty. The Center for Disease Control and Prevention's National Center for Health Statistics published the findings on Tuesday.
Preterm births declined four percent nationally, from 12.8 percent per one hundred births in 2006 to 12.3 percent in 2008. The decrease during the last two years is a departure from preterm birth rates from the early 1980s through 2006, which increased by more than one third, according to CDC data. Explanations for the increased premature births include more multiple births – which are often born earlier, and increased obstetric interventions such as induced labor and cesarean deliveries earlier in pregnancy.
Since 2006, when preterm rates peaked in the United States, 35 states have shown significant decreases in preterm births, with the exception of Hawaii, which reported an increase in preterm births. While African American women still have the highest rates of preterm births, their rates for preterm births fell 5 percent from 2006 to 2008, as did rates for non-Hispanic white infants. Hispanic preterm births showed a small increase between 2006 and 2007 but decreased nearly two percent from 2007 to 2008.
Study author Joyce Martin, epidemiologist for CDC's National Center for Health Statistics, says the new statistics are encouraging because, "we now see the rate has declined for two years… it's the first time we've seen that, and the result is reasonably large, and, importantly, it's widespread across race, age, and states."
Why are preterm births of such concern? Babies born before 37 weeks, preterm, are at increased risk for many serious health problems and disabilities, including cerebral palsy, mental retardation, learning problems, chronic lung disease, as well as vision, heart and hearing problems. The March of Dimes estimates that babies born before 37 weeks cost the United States more than $26 billion annually and preemies have a mortality rate three times as high as babies born full-term.
Dr. Alan R. Fleischman, Medical Director for the March of Dimes says that, "after almost thirty years of increasing preterm births, a four percent decrease (for the overall infant population) is amazing. Over twenty thousand babies will be spared prematurity."
Fleischman says the best way to prevent premature births begins before pregnancy. Women planning to become pregnant need to take care of all health issues: Stop smoking and drinking, lose or gain weight before getting pregnant and check thyroid levels. "Plan the pregnancy. If they've had a preterm birth, talk to their obstetrician about that. There's a new drug that is being used – 17-alpha Hydroxyprogesterone Caproate (17P), that shows promise in preventing preterm birth. Take multivitamins with folic acid because there is some indication that they prevent preterm birth." Fleischman notes that it's critical for expectant moms to work with their medical provider to maintain healthy habits and diet, and to know the signs of premature birth.
Fleischman says more work needs to be done to continue to prevent premature births.  He is testifying tomorrow before the House Energy and Commerce Health Subcommittee about preterm birth and infant mortality and he will urge legislators to reauthorize the PREEMIE Act (P.L. 109-450), which supports expanded research, education and other projects to help reduce preterm birth rates.
Editor's Note: Medical news is a popular but sensitive subject rooted in science. We receive many comments on this blog each day; not all are posted. Our hope is that much will be learned from the sharing of useful information and personal experiences based on the medical and health topics of the blog. We encourage you to focus your comments on those medical and health topics and we appreciate your input. Thank you for your participation.