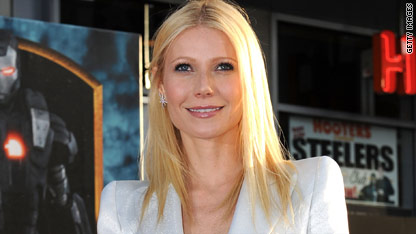 By Breeana Hare
Special to CNN.com
How's this for a no bull response: When asked how she got in shape to play Pepper Potts in "Iron Man 2," Paltrow said in her GOOP newsletter, "Well, I am not going to lie, the process was an arduous one."
She's not kidding. If you want to, as Paltrow put it, "do ridiculous things like be a 37-year-old mother of two and wear shorts," be prepared for some serious dieting and cardio.
Paltrow's regimen includes a daily hour and a half of dance cardio and strength moves created by her trainer and business partner, Tracy Anderson. But before her sweat session, Paltrow has either a "Think Thin" bar or a "Clean Shake" made from almond milk, blueberries and a scoop each of Dr. Alejandro Junger's "Move" and "Daily Nourish" drink mixes.
Post-workout, Paltrow would knock back a nice tall glass of kale juice – which, once blended with lemon juice and natural sweetener agave nectar, Paltrow considers being akin to "grassy lemonade." (Sounds delicious, we know)
Lunch is light with one of three wrap options prescribed by Anderson, all using a Mountain Valley wrap as a base. There's an almond butter and chopped dates version and a veggie version, which can be had with or without no salt turkey. Perhaps to keep herself from going insane if she looked at one more wrap, Paltrow created her own lemony grilled chicken recipe to be eaten with steamed veggies or a vegetable salad.
Snack time equals more kale juice, a handful of almonds or raw organic kambucha, and dinner contains more kale, in the form of turkey kale soup. Although Paltrow said it's important to switch up what you eat for each meal for variety, the only other dinner option besides the soup is a chopped veggie salad.
The actress stuck with this routine for five days to drop "extra winter weight," and she said she returns to it anytime she has a specific event coming up. If you want to check out the recipes and see a preview of her workout, head over to Goop.com.
Editor's Note: Medical news is a popular but sensitive subject rooted in science. We receive many comments on this blog each day; not all are posted. Our hope is that much will be learned from the sharing of useful information and personal experiences based on the medical and health topics of the blog. We encourage you to focus your comments on those medical and health topics and we appreciate your input. Thank you for your participation