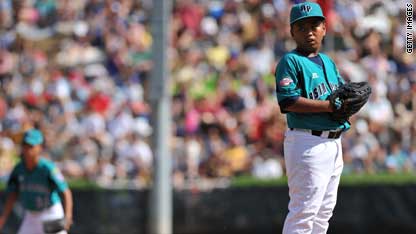 By Madison Park
CNNhealth.com Writer/Producer
Teenage athletes who play in multiple leagues and participate in sports year-round tend to overuse the same muscles and joints. The overuse could lead to serious injuries such as dislocated shoulders, torn anterior cruciate ligaments and ligaments usually seen more often in adults, said Dr. Thomas DeBerardino, an associate professor of orthopaedics at the University of Connecticut Health Center.
DeBerardino will moderate a session at the American Academy of Orthopaedic Surgeons conference in New Orleans, Louisiana, this week about adolescent sports injuries.
Calling the wave of injuries a "silent epidemic," he said he sees three major areas of injuries- head, neck and knees. Some young players play on year-round schedules and with several teams.
"If you're on multiple teams, that is detrimental to the overall health of their kids' shoulders and knees," he said. "It comes down to being overscheduled. Along with being overscheduled, they're overexposed and potentially injured.
"They never have a break. This increases risk of overuse and the adult-type injuries like stress and ligament injuries."
One example DeBerardino cited is youth baseball. Young pitchers could end up racking high pitch counts in each of their various leagues and increase their risk for elbow and shoulder injuries.
His advice to teen athletes is simple: Learn to listen to your body.
"Each kid and body is different," he said.  "Everyone has a different thresh point.  You get an injury if you're over-fatigued, you're doing too much and you don't have enough of a recovery period.  Each parent and person responsible for the kid needs to pay attention.  You don't have to examine the kid. Ask them if they feel overwhelmed, over-challenged.  When you need a break, you need a break."
And the reality is not every kid is going to be a Zack Greinke.
Editor's Note: Medical news is a popular but sensitive subject rooted in science. We receive many comments on this blog each day; not all are posted. Our hope is that much will be learned from the sharing of useful information and personal experiences based on the medical and health topics of the blog. We encourage you to focus your comments on those medical and health topics and we appreciate your input. Thank you for your participation.