By Madison Park
CNNHealth.com Writer-Producer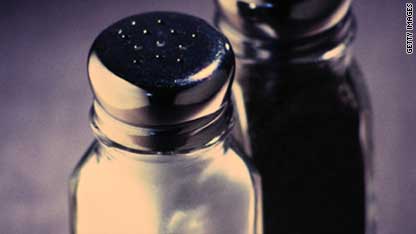 Reducing the U.S. population's sodium intake by 9.5 percent could reduce nearly half a million strokes and heart attacks over the lifetime of adults, according to a new research from Stanford University.
"The purpose of the study is to look at whether small reductions in sodium intake are worthwhile," said the study author, Dr. Crystal Smith-Spangler.  "Do they result in decreases in blood pressure, changes in death rates from heart attacks and strokes?  Is it worth enough to do?"
Smith-Spangler and fellow researchers created a model to simulate the effect of reducing sodium intake in a population of people between the ages of 40 and 85. This would result in a significant blood pressure improvement. Then, they calculated that this effect could save $32.1 billion in medical costs over the lifetime of American adults,  which would save 513,885 Americans from a potentially fatal strokes in their lifetimes, and another 480,358 from heart attacks.
"It looks like a modest decrease of 9.5 percent (in sodium) does seem to be worthwhile, in terms of cardiovascular disease," Smith-Spangler said. The research is published in the March 2 issue of Annals of Internal Medicine.
Sodium is a persistent health problem in the Western diet.   An average American adult consumes an estimated 3,900 milligrams of sodium per day – 75 percent comes from processed food.  The daily recommendation is 2,300 milligrams per day.
The problem with sodium has become the subject of several public health efforts.
In January, the New York City Health Department partnered with cities, states and national health organizations to cut down the salt in packaged and restaurant foods.  It has set a goal to gradually cut sodium by 25 percent over five years.  CNN.com: New York seeks national reduction of salt in food
In the United Kingdom, its food agency had started an effort in 2003 partnering with manufacturers to reduce sodium in processed foods.  This has lead to an estimated 9.5 percent decrease in sodium intake for the population.
If the United States was to emulate the U.K. model, Stanford researchers concluded that such a measure would result in "significant savings in medical costs, as well as increases in quality adjusted life years."
Editor's Note: Medical news is a popular but sensitive subject rooted in science. We receive many comments on this blog each day; not all are posted. Our hope is that much will be learned from the sharing of useful information and personal experiences based on the medical and health topics of the blog. We encourage you to focus your comments on those medical and health topics and we appreciate your input. Thank you for your participation.