By Beth Karas
In Session Correspondent
A week after the 9/11 attacks, I was reporting from ground zero for Court TV, now In Session, when I received a call from my father that my older brother, Joseph, had taken a turn for the worse. Joe had had many brushes with death but this would be his final one. The next day, I was at his hospital bedside in Massachusetts when he passed away. I spent another hour with him after he died, saying goodbye, and contemplating his life and that of my younger brother, Jonathan, who passed away eight years earlier. While they are in my thoughts daily, today is special because it's International MPS Awareness Day.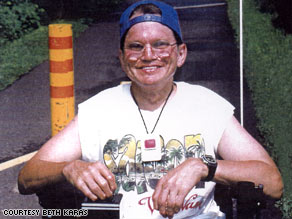 Beth's brother Joe used a wheelchair in the last years of his life.
My brothers suffered from a rare metabolic disorder called mucolipidosis type III (or ML-III), which they unknowingly inherited from both my parents. ML-III is linked to other disorders called mucopolysaccharidoses (or MPS) which are characterized by a missing or defective enzyme needed to break down and recycle materials in the cells. The body stores these materials, causing the cells not to perform properly. The progressive damage wreaks havoc throughout the body.
Through the years, my mother would tell me that the first time she held Joe in the hospital, she knew something "wasn't right." As for Jonathan, his birth was so complicated that he and my mother were hospitalized for several days—my mother recalling time and again her near-death experience. Little did we know what lay ahead. It would be decades before the diagnosis of ML-III would be made, but not for lack of effort on the part of my brothers' physicians.
Early signs of Joe's ML-III were his late development in walking and the stiffening of the joints in his hands by the time he was 5. His unbearable headaches at 6 led my parents to specialists two hours from home—at Boston's Children's Hospital. Joe's craniotomy began his, and ultimately Jonathan's, journey in and out of hospitals for the rest of their lives as doctors struggled to reconstruct joints, alleviate pain, create more mobility and generally improve their diminishing quality of life.
Doctors were mystified about my brothers' disorder. My mother used to tell me that they came from around the world to examine Joe and Jon in those early years and that my brothers were among the earliest reported cases. As my parents, sister and I watched their disease progress, we knew that some day they would no longer walk without aid. Indeed, by the end of their lives, they both used wheelchairs.
Characteristics of MPS and ML vary depending upon how severely one is afflicted. It can cause mental retardation, hearing loss, diminished eyesight, and damage to the heart and respiratory system. One of the most common characteristics is skeletal, such as short stature and stiff joints. My older brother used to tell me that one of his goals in life was to know what it felt like to have his palm on a table. His stiffened and curled fingers prevented it. Both brothers had their hips replaced while in their 20s and lived with chronic pain from every joint in their bodies.
There is no cure for ML or MPS though there are treatments today for some of the MPS disorders. Those treatments can be prohibitively expensive but they improve the quality of life and extend the life expectancy of those lucky enough to receive them. It is the mission of the National MPS Society, of which I am an active member, that there will be a cure someday for these horrible diseases. Until then, we seek to raise awareness of these devastating diseases and offer hope and support to affected individuals and their families.
For more information, visit  www.mpssociety.org .
"In Session's" Beth Karas is a journalist and former Manhattan assistant district attorney who has covered some of the country's highest-profile trials over the last 15 years.
Editor's Note: Medical news is a popular but sensitive subject rooted in science. We receive many comments on this blog each day; not all are posted. Our hope is that much will be learned from the sharing of useful information and personal experiences based on the medical and health topics of the blog. We encourage you to focus your comments on those medical and health topics and we appreciate your input. Thank you for your participation.