By Dr. Sanjay Gupta
CNN Chief Medical Correspondent
As far back as I can remember, I have watched David Letterman on late-night TV. I was a high school freshman when I first started watching him regularly, much to the dismay of my parents given the late hour of the show. During college, it was during his show that you would find the students gathered in the lounge waiting for the "stupid human trick" or his signature Top 10 list. I always felt he was at his best when the topic material was slightly more serious, and there was somehow comfort in watching this funny man offering a little comfort. I was always amazed at how effortlessly he navigated an interview, even the difficult ones with Cher many years ago and more recently with Joaquin Phoenix. In New York City, I always enjoyed walking by the Ed Sullivan theater, wondering what it was like inside.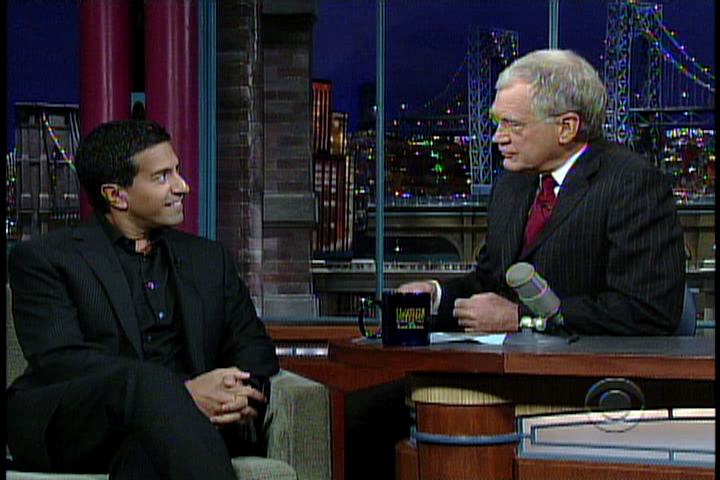 Dr. Sanjay Gupta and David Letterman.
Well, last night I got a chance to get a real insider's look. Letterman invited me to be on his show, and I took him up on it (watch video). Suffice it say that I never dreamed I would be sitting on that stage with this icon, and there was no question I was nervous. It started with a pre-interview call with one of David's producers, Matt Roberts. He was terrific and he had clearly done all of his homework. He recited facts about my career I had forgotten, and talked me through the whole structure of the show. Letterman primarily wanted to talk about swine flu, but warning: The conversation could really go anywhere. "Have a conversation with David, and don't worry about the audience," was Matt's final piece of advice.
When the time came to walk out, I almost stumbled over my own feet and shook David's hand too hard out of pure terror.  My mouth went instantly dry. He started by asking me about the process of being considered for surgeon general. A bit of a surprise, although I had talked enough about it that I felt comfortable. He kicked it into high gear when we started talking about medicine and he mentioned his own heart operation. From there, we finally transitioned to swine flu, and there he was offering the same comfort in his unique way - except this time I was a part of it, sitting right there with him.
Editor's Note: Medical news is a popular but sensitive subject rooted in science. We receive many comments on this blog each day; not all are posted. Our hope is that much will be learned from the sharing of useful information and personal experiences based on the medical and health topics of the blog. We encourage you to focus your comments on those medical and health topics and we appreciate your input. Thank you for your participation.