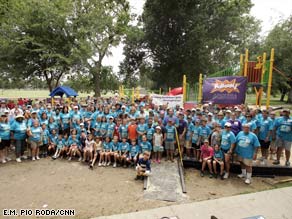 By Darell Hammond
CEO, KaBOOM!
If I were to list the names of all the individuals who've told me that I have the best job in the world, I could fill a book. What do I do, you ask? I build playgrounds.
In 1995, I founded KaBOOM!, a national nonprofit that empowers communities across the nation to build great places to play. We work to provide play spaces for children because we understand the great impact that play can have on a child's life.
Play is on the decline in America. While this statement may not at first seem alarming, it reflects a very negative trend in childhood development. As recess continues to be removed from our nation's schools and as more parents turn to indoor activities for their children's pastimes, today's children are not given the time nor the space that they need to learn and grow as independent, creative and thoughtful individuals. More often than not, they are restrained by structured indoor activities that keep them from developing the skills necessary to succeed as an adult. As our children's lives become more hectic and overscheduled, they also become filled with stress and anxiety – leading to more serious conditions, such as attention deficit disorder, obesity, depression, diabetes, high blood pressure and heart disease.
A recent study conducted by the Tulane University Prevention Research Center noted that the existence of play spaces – playgrounds, sports fields, skate parks – help to curb these negative trends. According to the study, the number of children observed outdoors and physically active on the playground and in the surrounding neighborhood was 84 percent higher than in a neighborhood with no play space. By giving children a safe and fun place to play, it seems we also give them increased access to healthy physical, emotional and intellectual development.
Do you remember those happy, heady days out on the playground or in the playing field with all of your friends? Do you remember the exhilaration and excitement that came from breaking boundaries that you never thought were possible? Do you remember how you felt as you swung higher and higher into the air, hoping that you might reach the sky?
Many of today's children will never be able to build these memories because of lack of time and space to play.
By providing today's children with great places to play, we hope to provide brighter, happier and stronger futures for generations of children to come.
Editor's Note: Medical news is a popular but sensitive subject rooted in science. We receive many comments on this blog each day; not all are posted. Our hope is that much will be learned from the sharing of useful information and personal experiences based on the medical and health topics of the blog. We encourage you to focus your comments on those medical and health topics and we appreciate your input. Thank you for your participation.