By Matt Sloane
CNN Fit Nation Producer
As I mentioned a couple of months ago (Full Story), there was a storm brewing on the Louisiana Gulf Coast over the weekend – a storm of volunteers, that is, ready to build an amazing new playground in just six hours.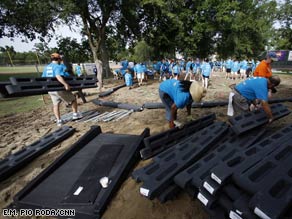 Pontiff Playground at 9 am
When we first arrived at Pontiff Playground in Metairie on Saturday morning, I still didn't believe it was possible.  There was 200 cubic yards of mulch sitting in the parking lot - it stood about 20 feet tall - 10 tons of concrete waiting to be mixed by hand, and a TON of playground equipment sitting in boxes and bubble wrap.  That was at 8:30 a.m.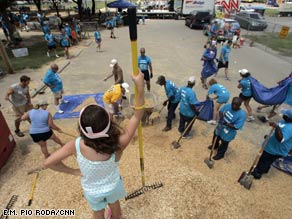 "Mulch Mountain" around 10 am
By 2:30 p.m., I was absolutely proved wrong (Watch Dr. Sanjay Gupta's report from Metairie here).  Children who still remember what the park looked like under 5 feet of water after Hurricane Katrina were painting hopscotch on the sidewalks, making tile mosaics and working on a huge mural.  In those same six hours, 250 adult volunteers managed to install a 9-foot-high tube slide, a rock-climbing wall, a sandbox with dinosaur bones at the bottom ready to be "discovered," a 90-foot walking path, a handicap-accessible playhouse and scores of other playthings.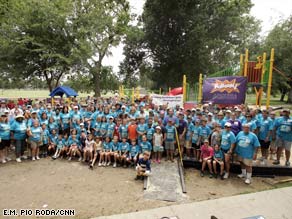 250 volunteers completed the new Pontiff Playground around 2:30 pm
A park had been reborn, and a dream that started with crayons and a piece of paper just two months earlier became a reality.
For me, it was more than just a service project.  It was the culmination of an eight-month-long process to bring KaBOOM! on as a new partner in the CNN Fit Nation fight against childhood obesity.  It was an important step in our efforts to make a difference at the community level.
How have you been a force for change in terms of health and fitness?  Have you ever been involved in a KaBOOM! project?  If so, we'd love to hear about it!
If you want to help KaBOOM! reach its dream of building a playspace within walking distance of every child in America, go to www.Kaboom.org
Editor's note: Medical news is a popular but sensitive subject rooted in science. We receive many comments on this blog each day; not all are posted. Our hope is that much will be learned from the sharing of useful information and personal experiences based on the medical and health topics of the blog. We encourage you to focus your comments on those medical and health topics and we appreciate your input. Thank you for your participation.